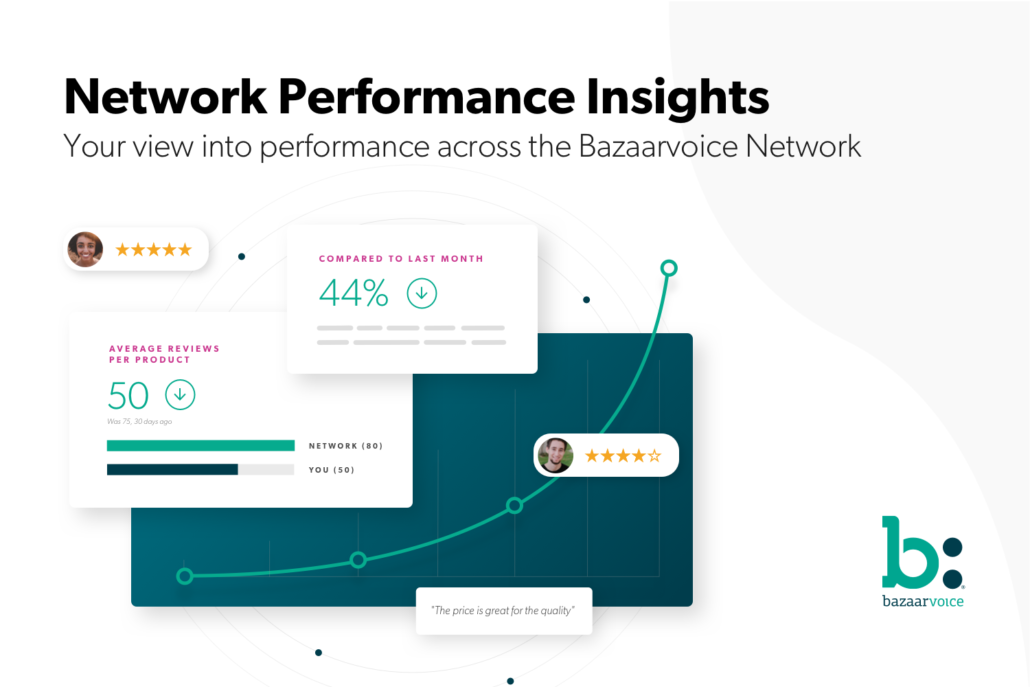 If your brand already has a user-generated content (UGC) program, we don't have to tell you the value of ratings and reviews. You already know that almost all (95%) shoppers use ratings and reviews to evaluate or learn more about products, which influences their buying decisions and your bottomline. You might also know that just one review on a product results in a 10% lift in orders, while 50 reviews causes a 30% lift in orders, and 100 reviews can lead to a 37% lift in orders. 
And since you're a pro, you also know that a business' ratings and reviews program can't be set and forgotten. You constantly need to be keeping a pulse on your UGC program, responding to customers, checking your average star ratings, understanding your brand's performance at retailers, and mining your customers' feedback for opportunities to improve your products. 
These exhaustive and difficult processes can also often leave you with more questions than when you started. To help, we built three new types of retail Premium Network Insights tools to help answer those questions. 
Network Performance Insights: which allows you to quickly see how your UGC is doing and where you can improve performance at your retailers. 

Sentiment Insights: which helps you understand what customers like and dislike about your brand at retail through advanced machine learning and natural language processing. 

Named Competitor Insights: that help you to stay in tune with how your UGC performance and customer sentiment stack up to your competitors.
These tools will answer many of your pressing questions and offer action items for your brand to implement to stand out, win favor with retailers and customers, and maximize your ROI.
What percentage of my products have displayable reviews?
If this number is low, there are a variety of ways to get more reviews for your products. This can be done through a sampling program, syndication, post-interaction emails, a sweepstakes campaign, and more.
Petmate, a pet supply company, saw the submission rate of reviews from customers rise 380% after they activated multi-product email review submission compared to the month prior. These review collection features now account for two-thirds of their total review volume.
What is the average star rating for my products?
The average product rating lets a brand know at a glance how consumers feel about your products overall. If a brand has a high product rating, then consumers are generally satisfied with your products. If a brand has a low average rating, you can work with your R&D teams to update products or improve messaging to realign expectations with your customers. 
After changing the formula of one of their pet foods, the pet food company "I and love and you" immediately saw that customer satisfaction and in turn, ratings were going down. After listening to the feedback from their customers, they switched back to the old formula, and saw a return in sales and satisfaction. 
What is the average amount of ratings on my products?
The number of reviews on a product can instill confidence in consumers and also give them the information they need to buy. The more reviews, the more likely a customer will feel they understand the product and feel confident in purchasing. If a brand's average is low, you can work to identify which products may have little or no reviews and work on getting more.
Land O'Lakes drives retail review volume with sampling. The food brand has distributed more than 30,000 reviews to retail sites in the Bazaarvoice network, including thousands collected from Sampling.
What percent of the reviews on my products are 4+ stars?
For brands, understanding how your products fare among consumers is essential. If a high percent of products are rated 4+ stars, then it signals that consumers are satisfied and that products are well positioned. 
How many of my products are rated 4+ stars?
Similar to what percent of reviews your products have are 4+ stars, it's helpful for brands to understand how many of their overall reviews are 4+ stars. This information can help you understand holistically what consumer satisfaction is based on reviews. We've found through studies with major retailers that brands see a 45% conversion at retail for products with four stars higher and over 100 reviews.
How many total displayable reviews does my brand have?
This number is useful from a reporting perspective, especially when you're comparing a product's performance to the last 30 days or its competitors. It also can give brands a sense of what shoppers see when they look at your products. 
What is my percent of product share?
This lets a brand know how many products at a retailer in a certain category are their own compared to how many are their competitors. This can give a brand a sense of how they sit on a competitive shelf in terms of sheer number of products. 
What is my percent of review share?
Review share can help brands understand how they fare on the amount of reviews compared to their competitor in their category. If a brand has a low percentage of review share it could mean that a shopper lacks enough information to buy or that the brand has products in a saturated market. This can be solved through Sampling campaigns and review syndication. 
The Seaweed Bath Co. was a small skin and hair company trying to expand their SKUs at a major retailer. The retailer wanted them to prove they were able to deliver good ratings before they allowed them to expand their footprint on the shelves. Through Sampling and Brand Edge, Seaweed Bath Co. was able to deliver 100% review coverage for their products and prove satisfaction, even when they didn't have many products on the shelves compared to category competitors.
___________________________________________________________________________
We want to make your job easier, and make sure that you get the most out of your UGC program. Starting July 7th, we're excited to announce that we're offering brands free early access to Network Performance Insights through September 30th. In October, we'll launch our Premium Network Insights product, which will include Network Performance, Sentiment, and Named Competitors. Learn more here.