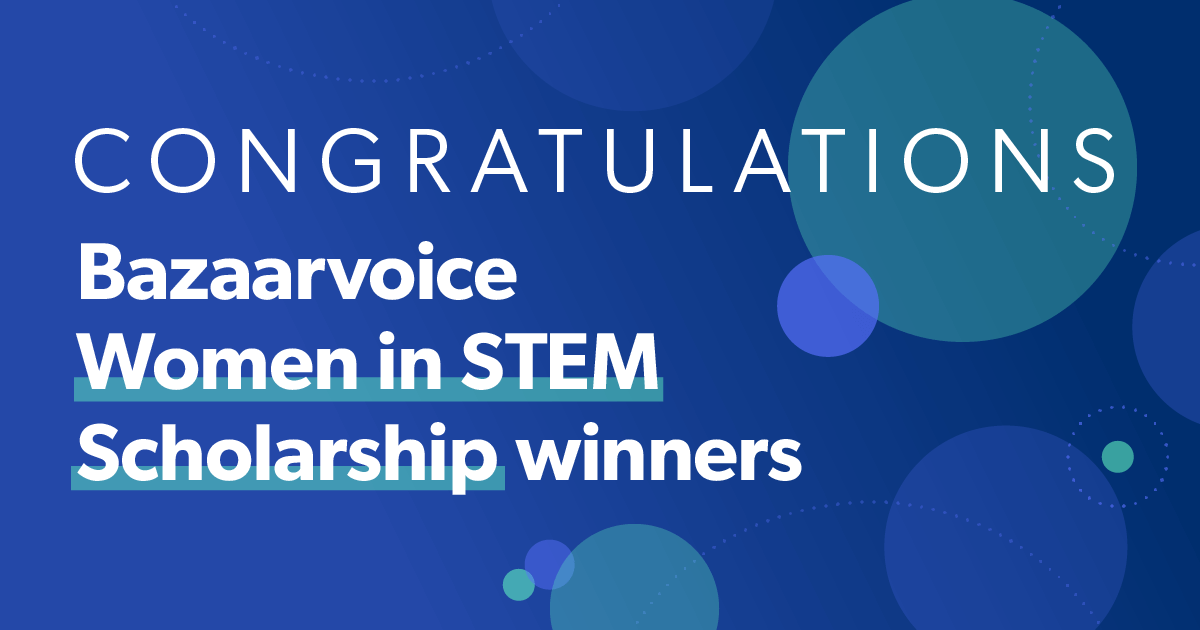 At Bazaarvoice we take diversity, equity, and inclusion seriously — it's not just a box we tick, it's one of our core brand pillars the company is built upon. We believe we have a social responsibility to create a more inclusive and diverse workforce. That's why every year we're proud to offer the Bazaarvoice Women in STEM Scholarship!
The goal of the scholarship is to empower the next generation of female tech leaders who are pursuing an undergraduate or graduate degree in a technical field of study.
We're passionate about helping to tell the stories of women in professional industries, and want to raise awareness of gender inequality in STEM fields. The academic scholarship is valued at $2,000 for the Spring 2022 semester. 
Today, we're thrilled to announce this year's winners of the Bazaarvoice Women in STEM Scholarship Program!
The 2022 winners
Join us in congratulating the scholarship winners! 👏
Alexandra Moreno
Beauty Kolade
Hannah Norbeto
Jailene Ramos
Jamilia Thompson
Megan Wang
Rebecca Beswick
Veronica Parra
The application process
We received countless applications from women passionate about studying STEM.
Applicants were asked to answer essay questions explaining their interest, such as:
Who or what inspired you to pursue a STEM career?
What do you plan to do in your career and why?
What are your ideas to bring more women into the STEM field?
Applications are reviewed by Women in STEM leaders at Bazaarvoice across the entire organization, including engineering, product, client success, and more!
Are you interested in applying for a Bazaarvoice Women in STEM scholarship? Please do! Applications open July 2022.