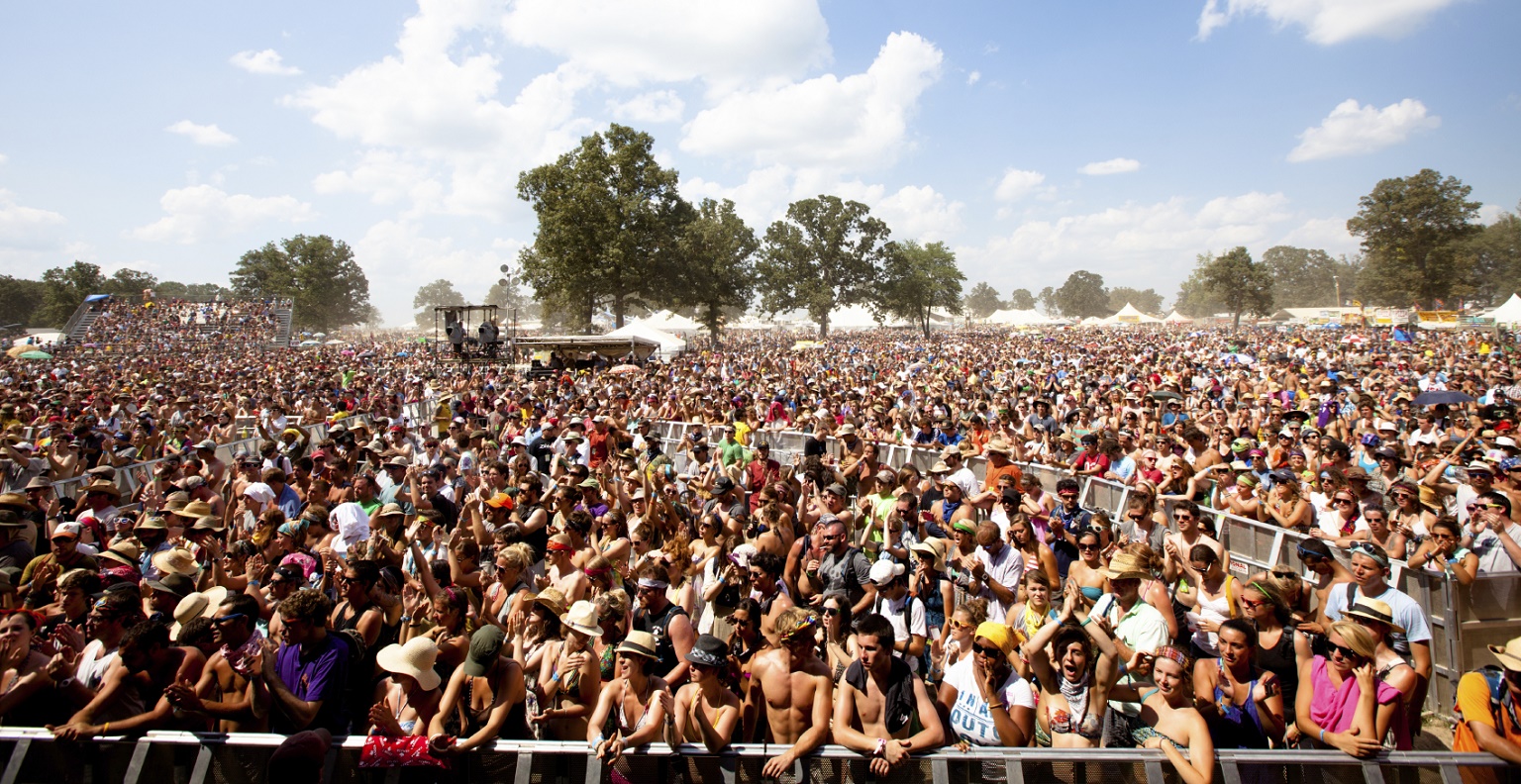 Having just come off 3 fun, but exhausting days at the Austin City Limits (ACL) music festival, I shouldn't be losing any of my precious Sunday night slumber thinking about how I could have "fested" more efficiently. Yet as a tech marketer, I find myself awake and irrationally angry at the money spent on ACL, when they clearly phoned it in – pun intended – on the official mobile app.
I'm not just picking on C3 Presents here, as they used the same technology that powered the Olympics and SXSW, and no one has truly harnessed the power of 75,000 phones moving about a festival or large event. My tech town missed an opportunity to leverage mobile to streamline operations and connect festivalgoers with each other to make better decisions.  By sticking with the status quo of a customizable schedule, map and photos, the only festival problem the app solved for me was I didn't have a pen to circle my favorite bands on the printed lineup distributed at the door.
Disclaimer: I am not a mobile developer. My suggestions are based on problems that mobile apps solve in the real world, so *seemingly* the technology could apply in the microcosm that is ACL. I'm aware there are limitations with Wi-Fi, but bear with me as we imagine the problems that can be solved in the mobile enhanced festival of the not-so-distant future.
Band selection
Maybe I shouldn't admit this, but I enjoy festival people watching equally-if not more than music, and hadn't heard of 80% of the bands.  With ACL repeating over two weekends, I did some old-school crowdsourcing to find out which bands rocked the 1st weekend. Now imagine instead of five recommendations, I could see the aggregated opinions of thousands on the artist page. This could happen if fans were prompted to leave a lightweight review after a show. I'd also benefit from knowing qualitative things like: be prepared to dance your face off during Trombone Shorty or don't even bother going to Outkast if you don't get a good spot as base overpowered the vocals. Granted some of this only works for a two weekend event, but even trending info could help inform your decisions in real-time.
From our work at Bazaarvoice, we know that Millennials trust the opinions of strangers more than friends and family.  However as someone caught in the crosshairs of Gen X and Gen Y, a snapshot of my Facebook friend's picks would have helped me decide.  Or if I found myself traversing the muddy grounds alone, I could see which friends were at a nearby stage.
Finding friends
This brings me to my next pain point of ACL; finding your friends in a sea of 75,000 people when texts are shotty at best and Wi-Fi is limited to non-existent.  While there is some charm to a skyline of strange flags and objects on poles serving as landmarks, there must be a better way than this: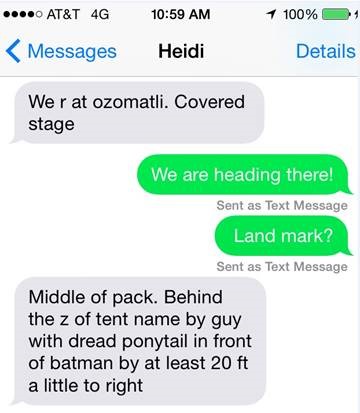 It may be this marketer's naive view, but doesn't everyone have a little GPS device in their pocket?  Surely if Uber can show you which drivers are circling you at any given point, they can do the same with your friends at a festival and spare the flag bearers the burden.
Where to eat
Even as a local, I had a hard time deciding what to order from the 100+ items offered by the 29 Austin Eats "food trucks." So I can only imagine the angst felt by a visiting foodie.  For many festivalgoers, these 3-6 meals are all they experience of the Austin food scene, so every meal counts to sample some of ACL's curated noshes. Short of cross-referencing these trucks with Yelp, it may be hard to figure out which are the "must eat" spots, as well as which custom menu items are stars. For example, Brussel Sprouts may seem like an odd festival choice, but not if you knew they were created by a winner of Top Chef before being adapted for Paul Qui's iconic East Side Kings food trucks.
Thankfully, I knew that The Mighty Cone is deep fried happiness in a conical form, but it saddens me to know that some may have walked right past it.   Having ratings and reviews would have not only helped patrons make the best choices, but could help C3 Presents and the food vendors optimize next year's menu.  Bonus points if they use crowd-sourced traffic technology like Waze, so you could jump in line when less people are standing between you and a delicious meat cone.

"Bathrooms"
As someone holding a degree in Microbiology, I have a legitimate fear of Porta Potties.   No app would make them less terrifying, however it could have helped manage the wait times.   I waited over 45 minutes at ACL, and contemplated dehydration as a strategy to avoid wasting more time.  Using the aforementioned Waze-like technology for crowdsourcing wait times could have helped inform which row of plastic thrones to bet on, and when it was optimal to embark on the journey.
Despite my suggestions for innovation, I don't think technology should replace all of the festival experience.  This may be news to the group of pre-teens with bare midriffs in front of me who watched most of Eminem through their 4.7 inch screens.  Nothing will replace the spontaneity of running into your cute neighbor in the Porta Potty line, and the awkwardness of seeing your boss after you may have been over-served $8 Miller Lites.  As for the trusty 'Stache' flag that has served my grad school friends valiantly for many ACLs, maybe next year's app will give way for its early retirement.