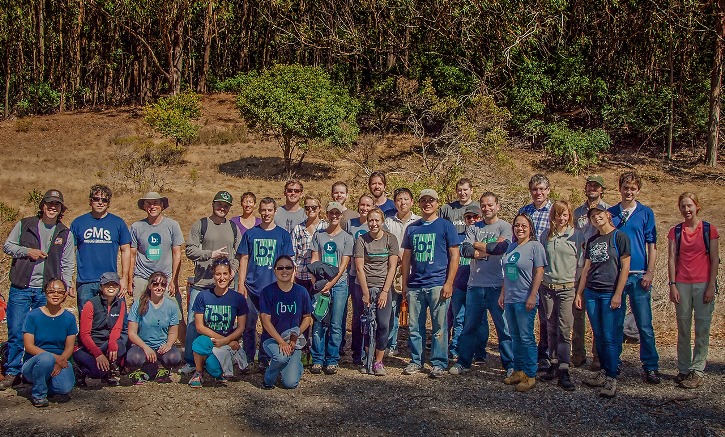 Generosity is not just a line on a poster for BV. We share. We give without expectations. We are connected to our community. This spirit of generosity has helped define us not only as a company, but as a culture.
During our first year, a group of BVers began organizing informal volunteer opportunities, product donations, and fundraising drives. Inspired by the actions of a few, Bazaarvoice leadership committed to supporting and expanding this effort.
Co-founders Brett Hurt and Brant Barton believed that the soul of Bazaarvoice must be one of giving. According to Hurt:
"We started to discuss what type of soul we would like this new person – this new collective that we were founding named Bazaarvoice – to have. We wanted that soul to be a generous one. We wanted that soul to engage the entirety of Bazaarvoice and, most importantly, its employees."
As we look back at the last year, Bazaarvoice employees volunteered over 3510 hours around the Austin community. We also moved to formalize the company's commitment to generosity by creating The Bazaarvoice Foundation, an independent 501(c)3 that aims to catalyze the next generation of entrepreneurial youth through financial investments and volunteer efforts that strive to educate the next generation of business and community leaders.
We give where we live: Bazaarvoice, Inc. giving
Bazaarvoice actively participates in philanthropy in Austin, New York, London, Amsterdam, Munich, Paris, Sydney, and Stockholm.
Volunteer work
In 2013, Bazaarvoice employees participated in 80 events globally, either through physical volunteering or monetary support. BVers volunteered 3510 hours in 2013. BVers participated in national events like the March of Dimes, The Dolphins Cycling Challenge, Leukemia & Lymphoma Society "Light the Night Walk," and many others. During September 2013, over 200 BVers volunteered for b:Generous Week, a corporate wide volunteer week dedicated to working in and around our global communities.
Charitable donations
More than just giving their time and energy, BVers make monetary investments in their communities worldwide. Bazaarvoice matches the donations of BVers to any charity they are actively involved in. This can be as simple as running a 5k or participating in fundraising. Through this program, we've helped to fund such charities as: Thinkery, Charity: Water, American Red Cross, Hand to Hold, and many others. One group of BVers even scaled Mt. Kilimanjaro, raising over £13000 ($20,000) for Tanzanian orphans. All in all, we donated $231,664 in employee driven cash donations, $113,845 in company cash donations, and $72,215 in in-kind value donations in 2013.
Sustainability
Improving our communities involves more than just physical or financial gifts. It takes committing to real behavioral change that will have a long lasting improvement. Every office has several recycling programs to cut down on our impact to the environment, including receptacles for single stream recycling and composting of organic waste, and a zero waste policy for all corporate events.
We impact the future: Bazaarvoice Foundation giving
BVers chose to make entrepreneurialism the mission of The Bazaarvoice Foundation, aiming to catalyze the next generation of highly-educated, entrepreneurial youth by making investments in organizations and programs that empower low-income K-12 students with key entrepreneurial skills, including leadership, curiosity, creativity, risk-taking, open-mindedness, and commitment to community.
Between November 2012 and December 2013, we:
Granted $162,500 to nine innovative nonprofit organizations.
Directly impacted 49,900 youth through grants and volunteering.
Donated more than $400,000 in cash and securities to the foundation.
2013 Grantees
The Bazaarvoice Foundation chose these non-profit programs to sponsor last year. Beyond dollars, we donate the use of Bazaarvoice products, plan team off-sites for grantees to our offices, and share our expertise. To learn more about BVF's support of our grantees, click here.
Breakthrough Austin
Mission: Breakthrough Austin creates first-generation college graduates through early, long-lasting interventions, tutoring, and career skills training.
BVF is funding: $25,000 – to support development of a 10th grade entrepreneurship curriculum.
East Austin College Prep
Mission: The Globaloria curriculum at East Austin College Prep teaches kids to code their own video games from scratch. It aims to engage students in digital learning for mastering the knowledge and skills they need to succeed in school, college, and careers in the global innovation economy.
BVF is funding: $30,000 – to support the expansion of EAPrep's in-school video game design class that teaches students entrepreneurial skills, STEM literacies, and commitment to community.
EcoRise Youth Innovations
Mission: EcoRise Youth Innovations aims to empower a new generation of green leaders to propel their schools and communities towards an environmentally sustainable future for all. EcoRise believes that the youth of today are powerful agents of change and innovation, leading the movement towards a healthy, ecologically-balanced future.
BVF is funding: $40,000 – to support the development of an online platform for distributing EcoRise curriculum, and the creation of an Ecopreneurship curriculum.
Lemonade Day
Mission: Lemonade Day is a free, fun, experiential learning program that teaches youth how to start, own, and operate their own business – a lemonade stand!
BVF is funding: $20,000 – to support the expansion of the program in Austin and to seed a larger partnership around youth entrepreneurship initiatives in Austin. This is the second year that BVF has funded Lemonade Day Austin.
Viperbots
Mission: Viperbots aims to develop and educate the rising generation of entrepreneurs and leaders in science, technology, engineering, and mathematics (STEM). Viperbots promotes leadership, teamwork, and mentorship through its participation in the FIRST Robotics First Tech Challenge (FTC), supports young women in STEM initiatives, and strives to exemplify a spirit of "gracious professionalism" in all its pursuits.
BVF is funding: $2,500 – to purchase equipment necessary for the team to expand their learning opportunities and to share their expertise with low-income students in Austin.
We'll keep you posted
This is our first post in a semi-annual series to keep you up to date on our corporate social responsibility efforts. To learn more about The Bazaarvoice Foundation or to make a donation, please visit www.BazaarvoiceFoundation.org