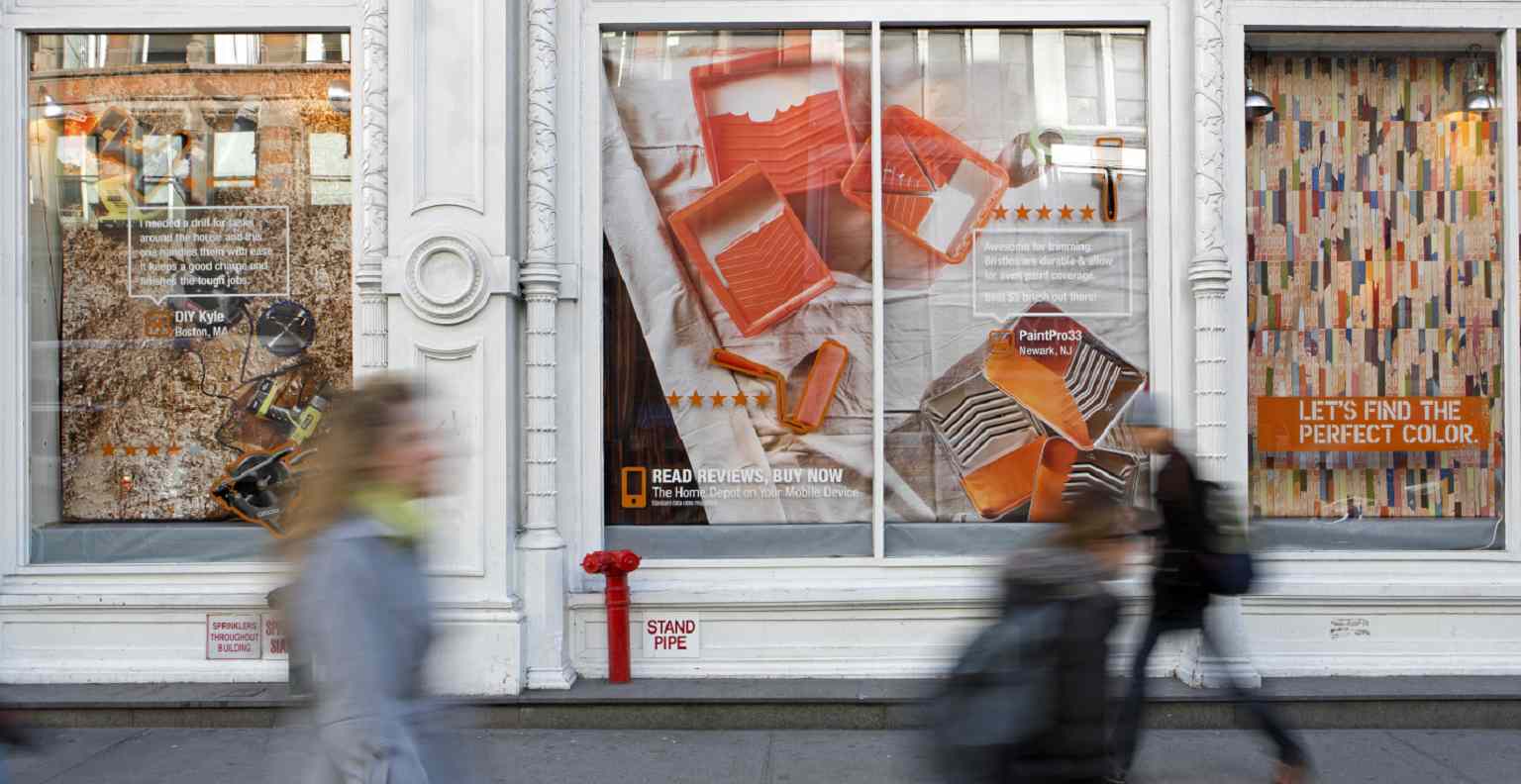 If you are like most shoppers, you probably read online reviews or search social media to learn about a product before you purchase. Maybe you were researching your TV, the new restaurant down the street, an insurance company, or even a recipe you were thinking about making. You want to ensure that you are making a wise decision with where you spend your money (and time).
However, do you ever wonder if all of that user-generated content is authentic? How does it get "approved"? Why do I feel like I see the same review on multiple sites? Are businesses actually reading reviews and listening to their customers? All of these questions (and more) are answered in our journey through a day in the life of a product review on the Bazaarvoice network.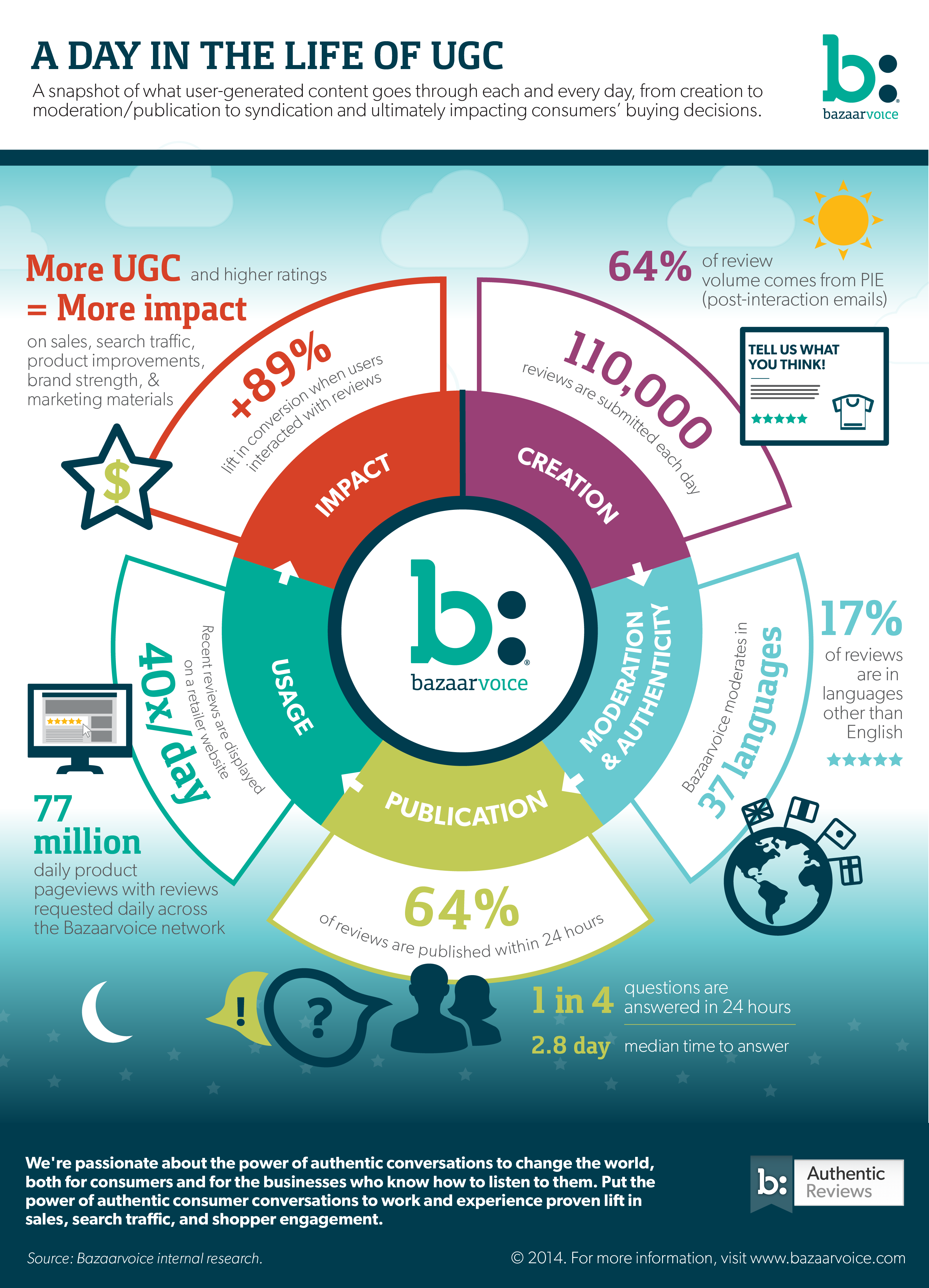 Creation
Over 110,000 reviews and over 12,000 questions and answers are submitted each day on average on the global Bazaarvoice network over the past 6 months. Reviews can be submitted organically on a retailer's or brand's site. They can be driven by homepage banners, site or email campaigns, or a company's pages on Facebook. Reviews can also come from post-interaction emails (PIE) sent to a consumer after they've purchased a product. This "verified purchase" mechanism helps ensure the authenticity of reviews and, for companies who have implemented PIE, we've seen that over half (64%) of their review volume comes from these emails. By covering a variety of sources, you reach more people and get richer content. Without doing this, you may miss the people who received their product as a gift or those who would prefer to review at the brand manufacturer's site rather than the retailer's site.
Moderation & Authenticity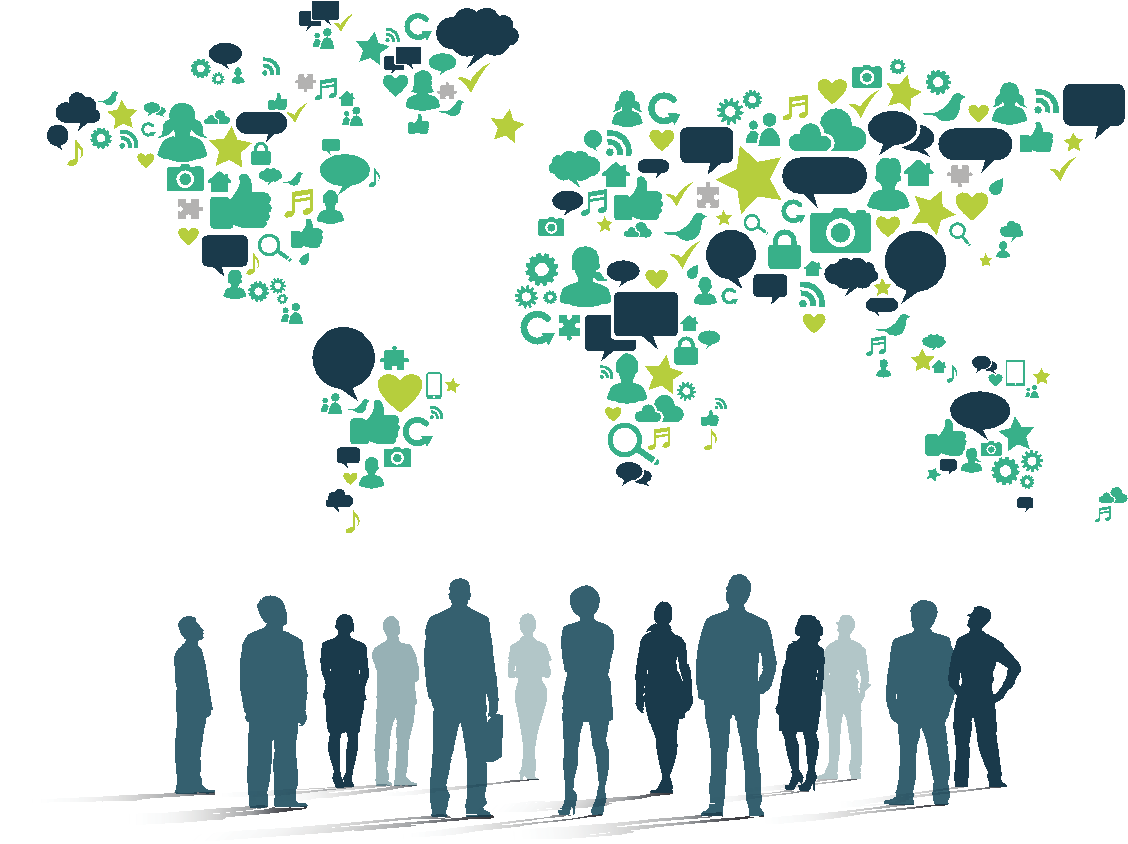 How can you tell the review is legit and appropriate, though? Every review submitted to the Bazaarvoice network goes through our extensive moderation and fraud systems. We moderate content in 37 different languages by people who speak that language natively—an important feature of our moderation capabilities considering 17 percent of submitted reviews (over 19,000 each day) aren't in English.  We also work with our clients to establish moderation guidelines that help ensure that approved content is product–relevant, appropriate to the site, and complies with the Bazaarvoice Authenticity Policy. For example, companies can't edit reviews or reject content on the basis of star rating, and all reviews flow through our anti-fraud system, which uses a variety of sophisticated analysis technologies to effectively intercept and combat the array of deceptive practices that affect the trustworthiness of online reviews. We do this to protect against companies who might try to promote their products or demote those of a competitor, as well as prevent fake reviews that may have been solicited by business or individuals—all of which helps reinforce why 88% of consumers trust online review sites as much as personal recommendations.
Publication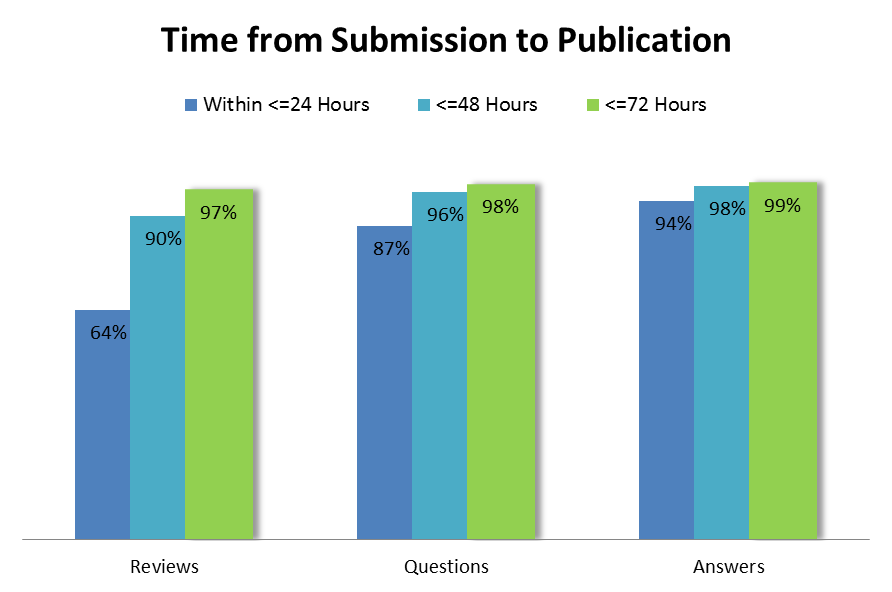 Out of all the reviews submitted to the Bazaarvoice network in the past 6 months, 64% are published to the company's site within 24 hours; 90% are published within 48 hours; and 97% within 72 hours. This leaves only 3% of reviews that take more than 3 days (72 hours) to go through moderation. With questions, 87% are published within 24 hours; 96% within 48 hours; and 98% within 72 hours.  With answers, 94% are published within 24 hours; 98% within 48 hours, and 99% within 72 hours.  At our largest retailers, one in four questions are answered within the first 24 hours from when the question is submitted to when the answer is published to the website. The median time to answer is 2.8 days.
Syndication
After a week or so of first being published, a product review can by syndicated or sent to another website that sells that same product. On average over the past 6 months, over hundreds of thousands of reviews are syndicated daily. Syndication allows shoppers to have the ability to read more reviews on a single site, instead of having to search for more reviews on other sites.
Usage
On average, consumers request 77 million product pageviews with reviews across the global Bazaarvoice network each day. We see over 25% of unique visitors actively interact with reviews by sorting, filtering, paginating, etc. when reviews are present. As a result, a recent review is displayed on a retailer's website between 15 and 95 times per day, with an average display frequency of approximately 40 times per day depending on site traffic, variety of products, how many reviews that product has, etc. In total, though, the Bazaarvoice network served more than 61 billion impressions of consumer ratings and reviews during May – July 2014.
Impact
As a shopper, a single review can impact your decision to buy that product. In turn, more reviews and better ratings lead to more sales for brands and retailers. From the moment a consumer begins researching a product to the point at which they make a purchase, reviews play a significant role. Assuming healthy review volume and a proper SEO implementation, we typically see a 15-25% increase in traffic from search to the pages where Bazaarvoice SEO is deployed. Some companies see even better results, such as the cat food brand Friskies, which saw a 28% increase in natural search traffic to pages where Bazaarvoice SEO was properly deployed. Once the consumer arrives at the product page, Bazaarvoice's reporting shows an 89% lift in conversion for those visits that used and interacted with reviews during their shopping time versus those who didn't use reviews. For example, a retailer may see a 2% conversion rate for site visitors who don't use reviews compared to a 3.78% conversion rate for those who do use reviews. Do the math with your monthly site traffic and your customers' average order value, and the ROI of reviews is readily apparent.
The value of reviews extends beyond sales figures, though. More and more companies are also using reviews to understand and talk to their consumers. Land of Nod uses reviews to listen to their customer and improve upon low-rated products. By examining and analyzing this content, a brand can measure their strength, health, and position in the marketplace.
Several companies use review snippets in their marketing campaigns in email, in TV and radio, on Facebook, in catalog, and in store. Clarks USA, a footwear company specializing in comfortable but stylish shoes, pushed out some awesome review snippets toward their 95k + fans on Facebook. With this post, they saw 146 likes in the first 3 hours.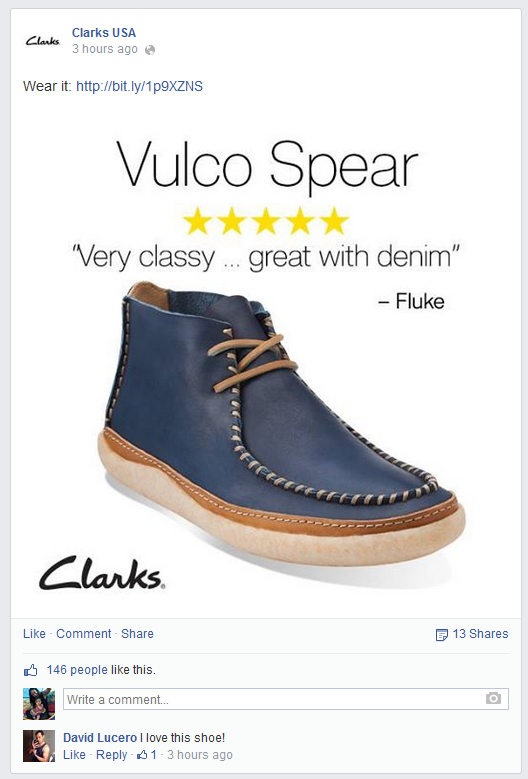 James Avery Craftsman, who offers high quality, artfully crafted jewelry, also uses their Facebook page with over 240k fans to highlight their top-rated products, engage their audience, and even drive some sales. This post was shared 80 times and got quite a few "I want this!" comments.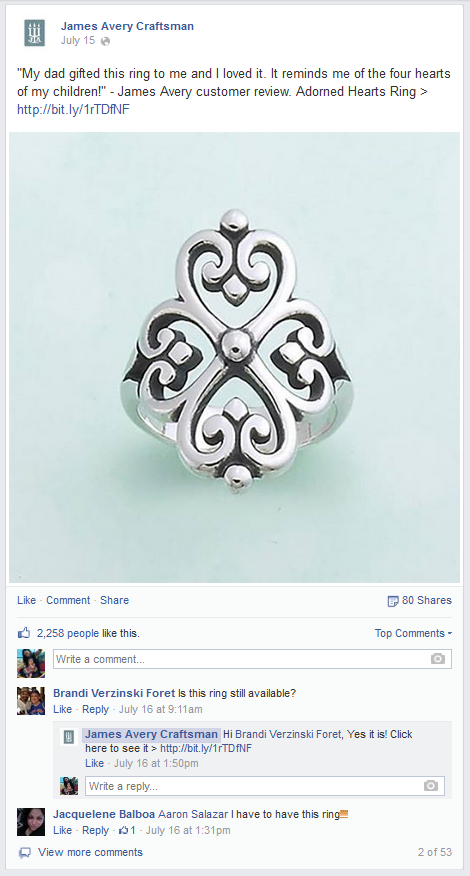 Home Depot highlighted review snippets in their New York store windows and urged customers to use their mobile device to read reviews in store.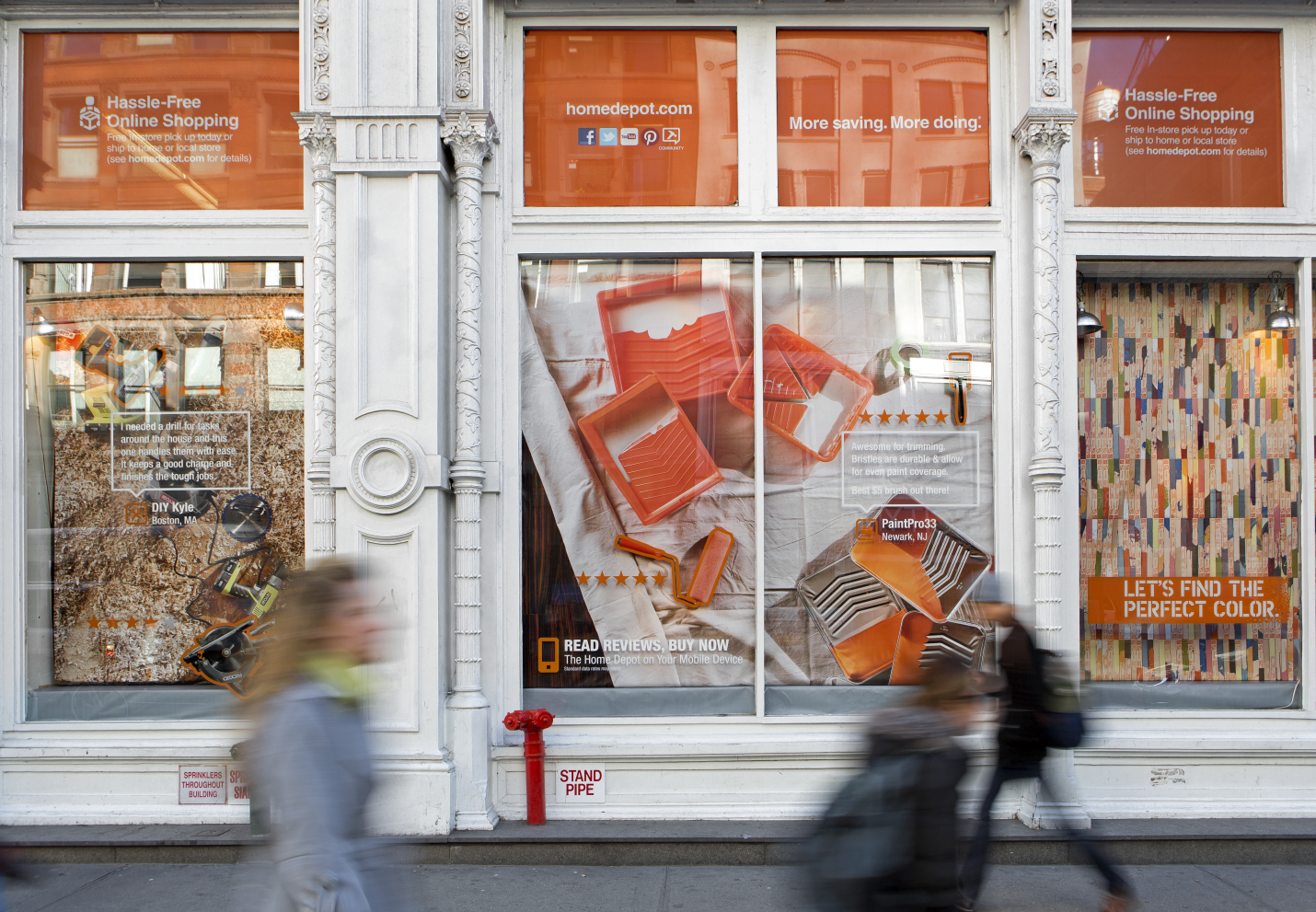 To wrap up, consumer ratings and reviews go through a rigorous journey from their creation to moderation and publication to syndication and beyond. Some reviews make it to Facebook, search engines, mobile apps, email, catalogs, and in-store displays. Reviews have an endless amount of impact upon the shopping experience. In a sense, a review is a gift that keeps on giving, whether that is to help the consumer make the right purchase decision or whether that's to help the company improve upon and create new products that their consumers need. So what are you waiting for? Go write a review!