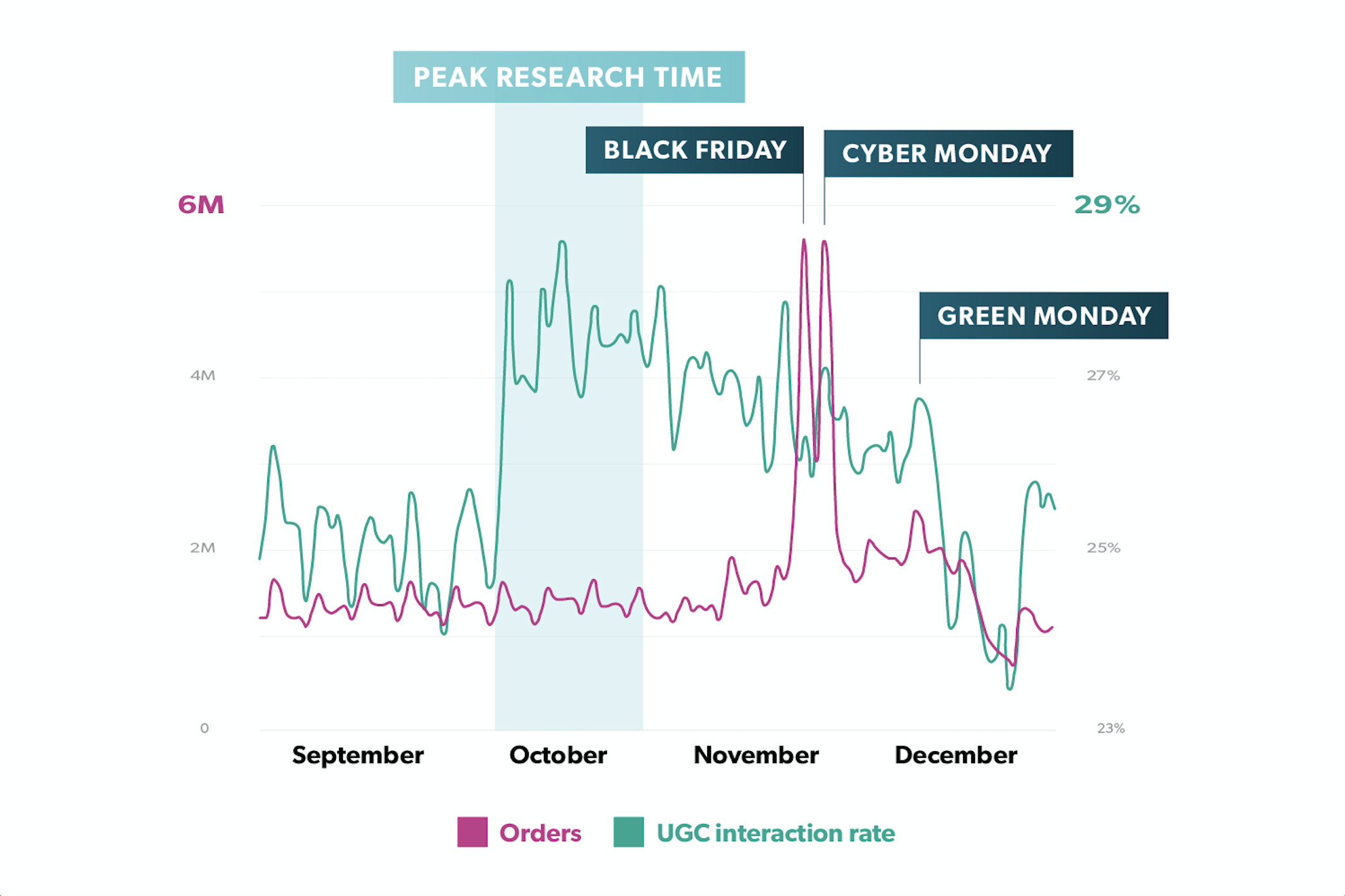 Like the retail industry as a whole, the holiday shopping season is continuously evolving.  While doing research for this blog, I found an article from 2016 that spoke to the then-current state and history of holiday shopping. It states that Americans start holiday shopping "as early as October" and says the holiday season is "commonly defined as November and December", but in just three years, that has already significantly changed. With new events such as "Black Friday in July", the holiday shopping season seems to start earlier each year and continues beyond Christmas.
To learn more about consumers' shopping habits and preferences during the ever-changing holiday season, we surveyed 2,500 holiday shoppers in the U.S., U.K., France, and Germany and analyzed data from our U.S. and European clients in our network of over 6,000 brand and retailer websites. Here are important dates to be aware of and prepare for during the holiday season.
Black Friday in July
Black Friday in July is a relatively new event in the shopping calendar. As a response to the incredible popularity of Amazon's first Prime Day in 2015, competing retailers such as Target and Walmart started to host their own sales during or around the same time period. The move has seen great success: this year, large retailers saw a 64% increase in sales versus an average Monday. Last year, our network of clients, which includes the world's leading retailers, saw a 21% increase in visitor traffic during Prime Day. Additionally, the number of shoppers increased by 15%, and the number of orders increased by 11%. While Black Friday in July sales occur during back-to-school shopping season, shoppers are also getting a head start on holiday shopping. According to our consumer survey, 18% of respondents said they would begin their holiday shopping during Black Friday in July sales events, and, surprisingly, 12% said they would complete the bulk of the holiday shopping during this time.
October
October is peak research time for holiday shoppers. Consumers are beginning to read ratings and reviews and ask questions as they consider different products in advance of sales days coming in November. Starting around Columbus Day 2018 (October 8th last year, October 14th this year), the user-generated content (UGC) interaction rate on our Network saw a sustained 8% increase until early November, peaking to an 11% increase on October 17th. The number of customer questions questions submitted across our Network also began to tick upwards in mid-October. It's important for brands and retailers to make sure their product pages are prepared for this time with ample ratings and reviews available and no consumer questions left unanswered.
Black Friday
Although Black Friday is no longer the first event in the holiday season, it's still by far the biggest — especially in Europe. While only a quarter of all of the shoppers we surveyed plan to kick off their holiday shopping on Black Friday, almost half (43%) plan to do the bulk of their shopping this day. Last year, the Bazaarvoice Network saw a 317% increase in order volume in the U.S. and a 427% order increase in Europe on Black Friday. While pageviews steadily climb throughout the holidays, order traffic does not first spike until Black Friday sales begin, proving that many shoppers do research in advance, but wait for Black Friday to actually make purchases.
Cyber Monday
Cyber Monday, coined in 2005, is a phenomenon that has been around for less than 15 years but already rivals the importance of Black Friday. In the U.S., Black Friday and Cyber Monday are neck and neck in order volume as Cyber Monday saw a 314% order increase last year, only 3% less than Black Friday. Interestingly, although 63% of the consumers we surveyed plan to complete the majority of their purchases online this holiday season, only 16% will make the bulk of them on Cyber Monday.  Although this may not be the most popular day for orders, it is for questions — during Cyber Monday 2018, there were over 14,000 questions submitted on the Bazaarvoice Network, a 110% increase over a typical day.
Green Monday (Dec. 10th)
An up-and-coming shopping day in the U.S. is Green Monday, which occurs on the second Monday in December and is typically 10 shipping business days to Christmas. "Green" refers to the money consumers are shelling out on this day; with an 83% increase in order volume, it was the biggest order day for the month of December and biggest order day in the U.S. outside of Black Friday and Cyber Monday last year. Europe saw a smaller bump in orders on Green Monday, with a 35% increase. Order volume in the U.S. starts to steadily decline after Green Monday leading up to Christmas, while Europeans seem to shop later: order volume doesn't start to decline until around December 19th. This data from our network is consistent with our survey findings: French and German shoppers in particular indicated that they wait until mid- to late December to even start holiday shopping.
Christmas Day
While both UGC interaction rate and online orders see a decline starting around mid-December until the 25th, Christmas coming doesn't mean the end of holiday shopping. In both the U.S. and Europe, Christmas Day is the highest day for mobile traffic during the holiday season with 69% of online traffic coming from mobile in the U.S. and 75% in Europe, as consumers research the gifts they've been given or plan returns and how to spend gift cards.
Boxing Day
Last year, December 26th, which is Boxing Day in Europe, saw a surge in online traffic with a 39% growth in the U.S. and a 54% increase in Europe. In Europe, apparel traffic experienced a 108% uptick on the 26th, while in the U.S., electronics increased 85% post-holiday.
____________________________________________________________________________
If you haven't started holiday shopping yet, you're already behind almost a quarter of your peers. And if you're a brand or retailer, if you haven't started preparing for the holidays, yesterday was a good time to start. To see more holiday shopping data and for best practices on preparing for the season, download our holiday preparation guide.