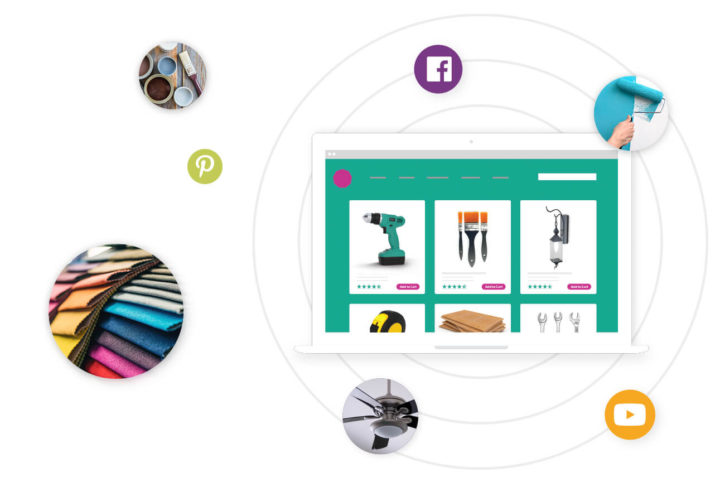 For the European DIY market, there's good news, and there's bad news.
In 2018, total sales at DIY retailers across the UK fell 40% year-on-year, according to the CBI. That's the bad news. 
The good news is that those undertaking DIY is increasing across European markets. Our recent study of 4,200 consumers from the UK, France, Germany shows consumer spending is up. In the UK, more than 60% of consumers plan to undertake some form of home maintenance work in the next calendar year, with 66% of consumers in France planning to decorate and 51% in Germany looking to repair general wear and tear. Furthermore, 36% of UK consumers plan on spending more than £500 purely on DIY products and equipment, in comparison to 41% of consumers in France who will part with more than €500.
No doubt that money is being spent on home improvement. What are the factors that influence how and where European consumers are spending?
Location, location, 
location
Nothing beats location. For DIY retailers, the evidence backs that up, with 45% of UK consumers saying proximity to a store is a factor in where they make their purchases.
While 20% of all retail spending in the UK goes to online sellers, only 7% of European home improvement purchases are made online. Leveraging physical presence and integrating it with online presence is something online-only retailers can't do. While it is difficult for retailers to understand the customer journey from on to offline, the importance of creating an omni-channel experience remains a high priority.
Brand? What brand?
Based on our research, there is a gap in loyalty within the DIY sector. Of the 15 leading hardware and DIY stores in the UK, only half a dozen were successfully recognised by more than 10% of consumers, with B&Q identified as the most well-known (81%), closely followed by Homebase (74%).
Price and proximity to a store are the primary factors that influence consumers throughout Europe. Brand reputation is a factor in a minority of cases (only 34% in the UK, just 19% in Germany). There is an opportunity for DIY retailers in Europe to differentiate themselves from competition and build brand loyalty through providing an outstanding customer experience.
Sell value
52% of Europeans said that a lack of funds was a barrier to pursuing their DIY dreams. In the UK, 60% say price is the major factor in purchase decisions. Price is an even stronger decider in France, where 71% say it is paramount.
There's a better way to winning the consumer than trying to compete on price. Smart retailers are now competing on value as opposed to price. Understanding that whilst the price of a product may be higher, value-adds provide a strong differentiator. These may be things such as a DIY retailer having in-store experts, in-store demos, or even how to videos online.
A community of experts
There is no doubt today's consumer wants to undertake DIY projects, however, many feel they lack the skills and knowledge needed. While 66% of UK consumers stated that they'd be comfortable with simple household maintenance, such as changing a light bulb and painting rooms,  confidence drops to 46% when it comes to larger projects, such as drilling to fit new fixtures.
They're eager to learn though. The internet is a melting pot of information, opinions, and shared experiences, with plenty of places for consumers to look to for inspiration and instruction. Reviews and curated imagery of real-life DIY projects provide a point of research online, with 83% of DIY consumers stating that visual aides are important when making a purchase. It is evident that DIY retailers have yet to capitalise fully on the opportunity to be seen as a go-to source for guidance and inspiration; retailers should provide a variety of helpful, inspirational content about home improvement projects that drive curious consumers in-store and online, rather than to other resources.
What can be done?
Cash-strapped DIY consumers are looking for value from their purchases. At the same time, they want to learn more about products and how to complete projects. Consumers are currently using online tutorials to learn how to perform tasks and online reviews to evaluate products.  With accessible information to help them make informed purchase decisions, an increasing number of shoppers are making their DIY purchases online.
Using both their online and physical presence, European DIY retailers can differentiate from competitors and drive brand loyalty by providing the following:
Online and in-store educational d

isplays and tutorials

Product launch

es and events

 

Consumer reviews

 and curated visual inspiration

 on 

the

ir

 company web

site

 

In-store 

pickup

s 

and 

returns of online purchases

 

In-store a

d

visors 

and online chat services 

to help 

customers make the perfect, personali

s

ed DIY choice

 
The combination of physical presence and technology gives these retailers the opportunity to become a hub for DIY projects, as the old neighbourhood hardware shops once were. To read more about the state of DIY retail in Europe, download our full report.