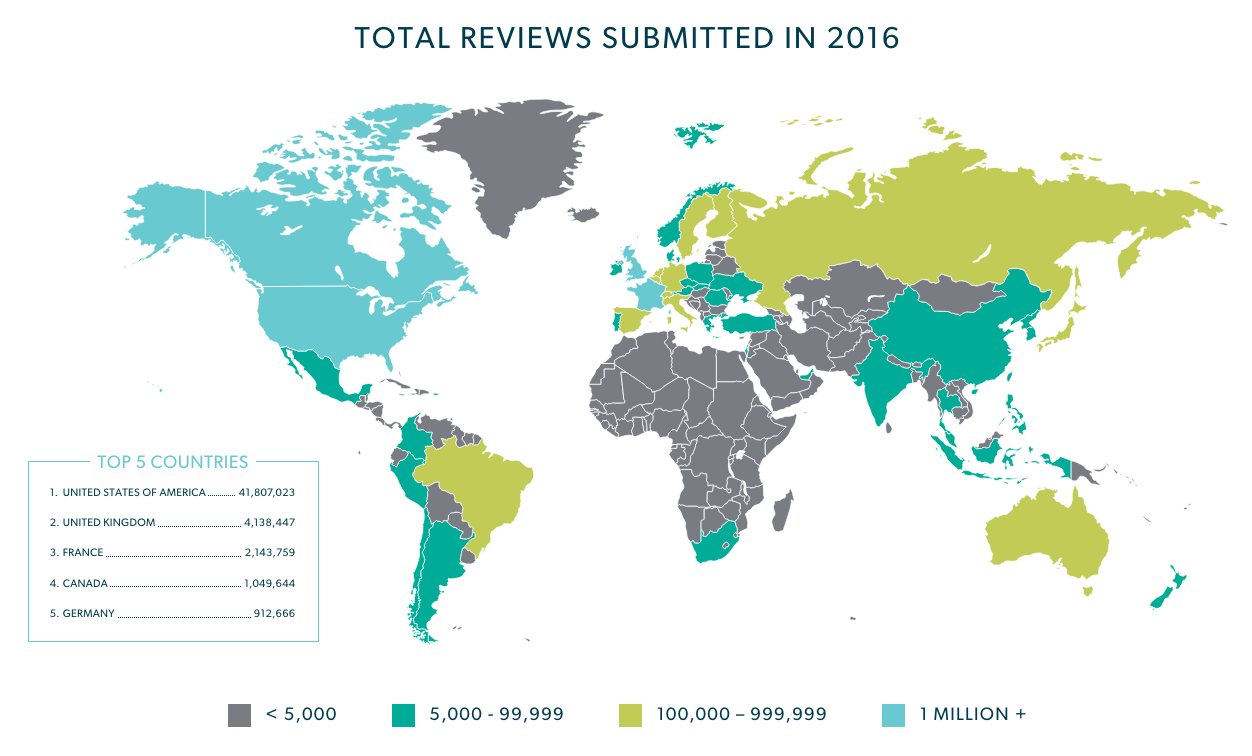 Now in 2017, consumer-generated content (CGC) is an important part of the shopping process around the world. In 2016, reviews submitted on the Bazaarvoice platform came from 186 countries in 37 languages. CGC is on the rise throughout Europe; although North America remains the highest-volume CGC market in 2016, consumers in Europe have generated 8.649M reviews last year alone.
Regardless of where you live, we all know CGC is a crucial influencer in the increasingly fragmented customer journey. Two years ago, we set out to measure just how crucial. Clients were always asking us to benchmark their CGC strategy and help them to understand where they could deliver even more benefit. And so the CGC Index was born — our definitive state of the industry report. In this year's report, we wanted to uncover what makes a successful  strategy and to identify practices from our most successful clients. Here are five European clients with best-in-class CGC strategy.
Norrøna: Excelling at content collection
This is the most important, foundational practice for all clients. While the most important thing a company can do to collect review content is to simply ask their customers for it, we see time and time again that the most powerful programmes employ a variety of tactics into an integrated program to drive volume.
A company doing this well is Norwegian outdoor brand Norrøna. To raise awareness around Norrøna's quality and value, the company launched a CGC initiative using Bazaarvoice Conversations. In addition to asking previous customers for reviews through a post-interaction email (PIE), the company gathered expert reviews from outdoor athletes and enthusiasts who had used Norrøna products. The effort paid off with more than 2,000 reviews collected soon after program launch, in addition to the results below:
 

77% of products reviewed within four weeks

 

90% of products reviewed to date

 

8 reviews per reviewed product on average

 

4.7 average product rating

 

94% positive reviews
Through a variety of collection tactics to increase review volume, Norrøna achieved an 80% increase in online conversions, influenced 25% of offline shoppers, and successful spread their product quality message. There is no such thing as collecting and displaying too much content.
Waitrose: Unlocking the full potential of CGC
In the retail industry, we love to talk about channels! Multichannel, omnichannel, cross-channel, the English Channel (maybe that's just me). But one thing we can all agree on is that your CGC needs to show up in all the moments that matter — in store, online, and everywhere in between.
We sometimes forget that consumer content has a huge impact on in-store behaviour too. Our study of research online, buy offline behavior (ROBO) reinforces the importance of CGC in today's omnichannel experience. In 2016, our research covering over 4.5M data points across 32 retailers indicated that shoppers interacted with CGC before 45% of offline purchases. Particularly in the UK where we've recently seen online pure-players like Missguided move to brick-and-mortar stores, consumer behaviour is increasingly shifting toward a hybrid of in-store and online shopping, with mobile devices acting as a key channel. Consumers shift between mobile, PC, tablet, and in-store experiences seamlessly during the shopping process.
Waitrose, a grocery chain in the UK, is an excellent example of a company that takes a holistic approach to amplifying content across the journey. At the very least, consumer-generated content typically sits on a product detail page, but Waitrose took that content much further.
In their "Loved by You" campaign, they showcased reviews across their entire digital presence: product pages, category pages, the homepage, and email newsletters. To bridge the online and offline experience, they amplified the same reviews on in-store displays and in their print media. This omnichannel approach delivers consistent engagement and experience across many touch-points of the shopper journey and gets the most impact out of customer reviews.
Manor: Capitalising on visual content
The clients I have mentioned so far do a great job with ratings and reviews, but I wanted to be sure to include an example that shows the power of visual consumer-generated content. In today's world, one of the most powerful things you can do is let consumers illustrate your story through their own photos and videos. Visual content has been exploding in the past few years; so much so that at Bazaarvoice, we really think of it as table stakes. Social content in the form of photos and videos contributes authenticity and relatability to your product, something that static and edited product photography could never replicate. 89% of U.S. shoppers say that visual content makes shopping more effective and efficient. On the other hand, 48% of U.S. consumers indicate that if visual content is not available on an e-commerce site, they leave the site to seek information elsewhere.
in 2016, our clients with Bazaarvoice Curations (our social content curation software) saw larger order sizes per shopper and higher revenue per visitor — a +116% lift for those who interacted with visual content compared to 111% for ratings and reviews.
Manor, a Swiss department store chain we highlight in this year's CGC Index report, had a terrific visual content and social media campaign in 2016. They rode the Pokemon Go craze to great success – and saw terrific business value as a result. They hosted a week-long Pokémon hunt in their stores with an accompanying hashtag #PokeManor. The campaign generated more than 18,900 pieces of curated visual content, resulting in 32,000 Curations page views per month and 9,000 direct customer Curations interactions. What we really like about this campaign is that it's a great illustration of today's reality: there is no line between online and offline shopping any more. While they were shopping and playing the game in-store, shoppers were simultaneously posting from their phones to social media, which in turn posted to the Manor website and drove online sales.
Instagram remains the most prolific channel for our clients. Featuring social imagery should be a key element of your overall social strategy — close the gap between what your social team is doing and what's happening on your site.
Debenhams: Skilled listeners
What can you learn from your content? The best-in-class CGC experts know that listening and learning is a huge part of their success. The best marketers recognise that consumer-generated content is an invaluable data asset. Perhaps no other element of the digital marketing mix contains such high insights. Insights drawn from visual and text content and star rating trends can be used as early warning signs for products in need of attention or customer service issues. Moreover, careful examination of content can provide perspective into customer sentiment and usage patterns to improve the overall marketing tactics supporting a product.
Debenhams uses the review submission form to ask relevant questions based on the product and category and displays those review attributes, steering reviewers to other useful information for other shoppers. Customers can then use these attributes to find the reviews from people most like them, which provides a higher-impact personalized shopping experience. Various departments within the company receive automated reports from the consumer-generated content program, giving them visibility into any issues and the ability to engage with customers.
When Debenhams solicits customers for reviews, their review submission form asks more specific questions around the product than just whether the customer liked it or not. For example, for beauty products, they ask about the customer's skin type, the ease of application, and how long the product lasts. Having these details about their customers allows shoppers at Debenhams to more easily find reviews from people most like them, which provides a more personalized shopping experience.
The information is also important for employees at Debenhams and the brands it carries to have. Various departments within the company receive automated reports from the consumer-generated content program, giving them visibility into any issues and the ability to engage with customers. For example, when Debenhams' Home and Furniture team noticed an influx of negative reviews around couch cushions losing their shape, the team responded publicly to the reviews and sent replacement cushions to those customers. Debenhams then worked with the manufacturing brand to fix the issue and updated the product description. These actions successfully halted the negative reviews and quickly restored the product's previous high rating.
Your content is a massively-scaled focus group. It's the most immediate, authentic, unfiltered way to learn what customers really think of your offering — don't let it go untapped.
Elkjop: Committed to customer conversations
And finally, last but not least – realise that you should be having a two-way conversation with your consumers. Let's return to Norway one more time to look at how Elkjop has used ratings and reviews and Q&A to capture customer feedback, improve their offering, and ultimately boost their bottom line.
For Elkjop, it was a priority to respond to customers' product questions quickly and thoroughly. They started using our optimistic publishing process to ensure consumers' questions were posted to the website right away, optimized their question-handling structure with employees, and incentivised and rewarded their employees for participation.
In the end, they saw a significant increase of 30% in volume of questions answered, leading to a lift in conversion from 36% to 48%. The new handling model also helped to develop a strong sense of community among Elkjøp's employees, with a positive impact on the company's image.
Consumers want to have a conversation with you. Your CGC programme showcases your responsiveness to a huge audience.
These five examples are just some of our European clients doing innovative, creative things with their consumer-generated content strategy. To learn more best practices from our network of 5,000+ brands and retailers, download our full CGC Index report.