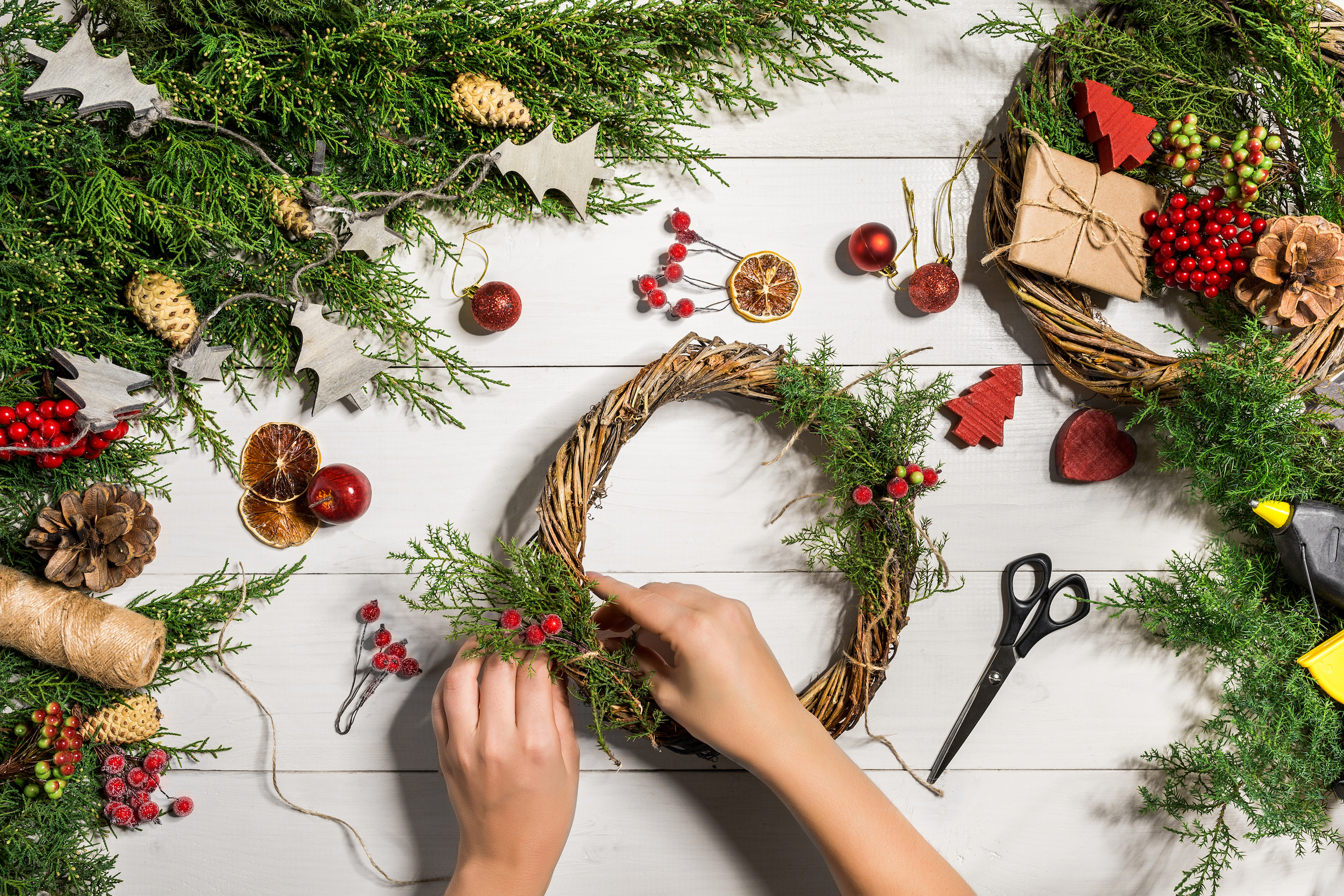 The holidays are just around the corner. Now more than any other time of year, shoppers are turning to social media to discover and research gift ideas, ask questions to customer service, and share their own holiday experiences. You can't underestimate the influence of social media on holiday shoppers. More than half of shoppers have purchased a gift after reading a holiday review on social media, and while Facebook is the most influential social network for shoppers, visual platforms Instagram, YouTube, and Pinterest tie for second place.
The holidays are an ideal opportunity to increase engagement with consumers. Depending on strategy, some brands have holiday social media campaigns that they repeat every year; others try something new and different each year. There is no one-size-fits-all approach to social campaigns, but with so much marketing and advertising noise during the holiday season, you do need to get creative. Here are a few ways to engage your customers and attract new ones with your holiday social media campaigns.
Think beyond gift-giving
It's fair to assume that most consumers are hunting for gifts during the holidays, but presents are not the only high-demand items shoppers are buying. The season of giving is also holiday party season. Many people are either attending parties or hosting their own, and social media is one of the top sources of inspiration.
More than half of consumers consult social media to search for gift ideas, but 49% of consumers are using social media for recipes, 30% use it to watch DIY and how-to videos, and 28% use social to look up party-planning ideas. Instagram, Pinterest, and YouTube are ideal mediums where brands can share inspiring content and crowd-source images generated by consumers around home décor, DIY projects, and entertaining.
A retailer doing this well is Michaels, which appeals to an avid community of crafters. For the holidays, Michaels posts numerous DIY videos on its YouTube channel to inspire viewers with creative holiday projects. The Michaels Stores channel features a ton of short, simple instructional videos that show viewers how to wrap gifts, make decorations like ornaments and wreaths, and trim their Christmas trees.
In addition to these instructional videos, Michaels also runs the video series called The Make Off, where actress Busy Phillips challenges other celebrities like John Stamos, Rob Lowe, and Snoop Dogg in head-to-head crafting competitions. This lighthearted series is a fun, engaging way for Michaels to highlight the art supplies they sell in their stores, demonstrate the variety of art projects crafters can make, and enhance brand affinity with their followers.
Capitalize on trending types of content 
With the rising popularity of social media, brand marketers have started partnering with influencers to help tell their stories and better engage with their audiences. In fact, 67% of marketers plan to increase their influencer marketing budgets over the next twelve months.
One of the biggest trends in social and influencer marketing is the unboxing video, where someone films themselves opening and talking about a new item. From consumer electronics teardowns, limited edition sneaker releases, and makeup tutorials with new cosmetics and beauty products, unboxing videos have grown tremendously popular. But one category in particular stands out during the holidays – toys and games.
It should be no surprise that toys and games sales spike during the holidays. On our network, conversion for toys and games was 475% higher during the holidays compared to non-holiday time. Toy unboxing videos capture the surprise, joy, and unfiltered opinions of children playing with new toys for the first time, and these videos receive millions of views. Six-year-old Ryan of Ryan's ToyReview has over 10 million subscribers, and he has generated $11 million in revenue from his YouTube channel this year alone.
Brands, especially those that sell toys and games, should consider trying out some of these trendier social campaigns during the holidays; parents are most ripe to buy, and people of all ages are coveting new things. Unboxing videos in particular capture the same excitement many of us feel opening our own holiday gifts. You don't have to spend your entire holiday budget on working with a top influencer like Ryan — choose your influencers wisely based on your audience or even consider tapping your own top customers.
Create memorable experiences for shoppers
Though holidays sales are undoubtedly critical, the holiday season is about more than presents, and brands and retailers should act accordingly. Many holiday traditions revolve around creating memorable experiences for families and giving back to the community, and some leading brands have aligned their social media efforts with engaging in-store experiences that also create social good.
The #MacysBelieve campaign is one of the best examples of a top retailer creating memorable experiences for shoppers in a non-commercial way during the holidays. The campaign invites shoppers to write letters to Santa and deliver them through mailboxes stationed in Macy's department stores; for every letter received, Macy's donates a $1 to the Make-A-Wish Foundation.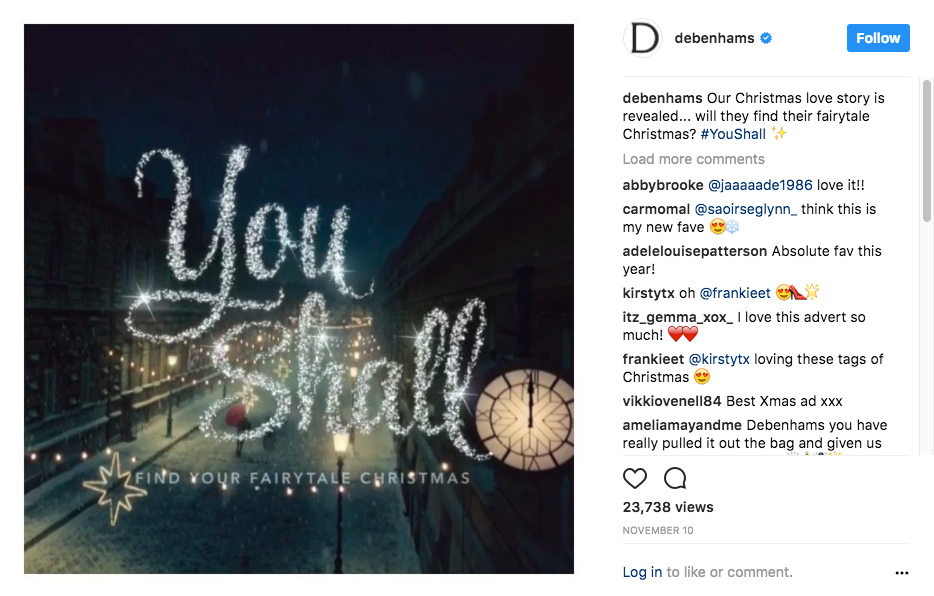 Similarly, UK retailer Debenhams launched its "#YouShall have a Fairytale Christmas" campaign this year — an omnichannel holiday campaign rooted in storytelling. In addition to tying shopper sweepstakes and in-store events to the #YouShall hashtag, the retailer also used this theme to grant surprise holiday wishes to deserving people. Try watching one of those YouTube videos without smiling (or crying).
These holiday social media campaigns help brands tell stories and build powerful, emotional connections with their customers.
---
Whether they're shopping for the perfect gift, entertaining guests, decorating their homes, or simply spending time with their loved ones, consumers are using social media as a trusted source of discovery and inspiration, as well as a means to capture and share their holiday memories. If brands and retailers are creative and mindful about incorporating holiday social media campaigns into their marketing strategy and in-store experience, they can form lasting relationships with consumers in the long run.
To learn more about how you can create a visual content strategy to convert the social shopper, download our latest ebook.