143%
Increase in conversion
with user-generated content
Communication is essential to any outdoor pursuit, like camping, hiking, fishing, or hunting – and choosing a reliable walkie-talkie is crucial. But how can consumers be sure they're buying a quality product when shopping for a device as important as a walkie-talkie?
Midland Radio, a company that sells walkie-talkies for outdoor activities and business communication, was dealing with that exact dilemma. The brand needed more online reviews and a better online presence to improve customer sentiment and build trust in its products.
By harnessing Bazaarvoice's Ratings & Reviews and Social Commerce solutions, Midland Radio saw a 322% lift in time spent on the site, a 143% increase in conversions, and a 27% increase in average order value — all of which contributed to a $1 million increase in revenue year-over-year.
Midland Radio's goal is to provide "Reliable Communication for Every Adventure." The company, which was started in 1959, was the first CB radio manufacturer in the United States.
In 2016, it launched the MicroMobile two-way radio for outdoor activities. The following year, the BizTalk line went live and now helps hotels, retailers, and contractors communicate easily on the job. Currently, Midland Radio sells the No. 1 consumer walkie-talkie in the U.S., the GXT1000.
Before they started building reviews with the help of Bazaarvoice in late 2017, the company only had about 150 reviews across all its products. Midland Radio needed to increase review numbers and infuse its website with more appeal to grow its consumer base and improve customer sentiment.
Midland Radio increased reviews exponentially thanks to Bazaarvoice's Ratings & Reviews tool
"Being able to support the products on our site with reviews and questions and answers, but also syndicating to our major retailers is a really, really big deal," said Andrew Kinsman, Director of Marketing Shared Services, Midland Radio.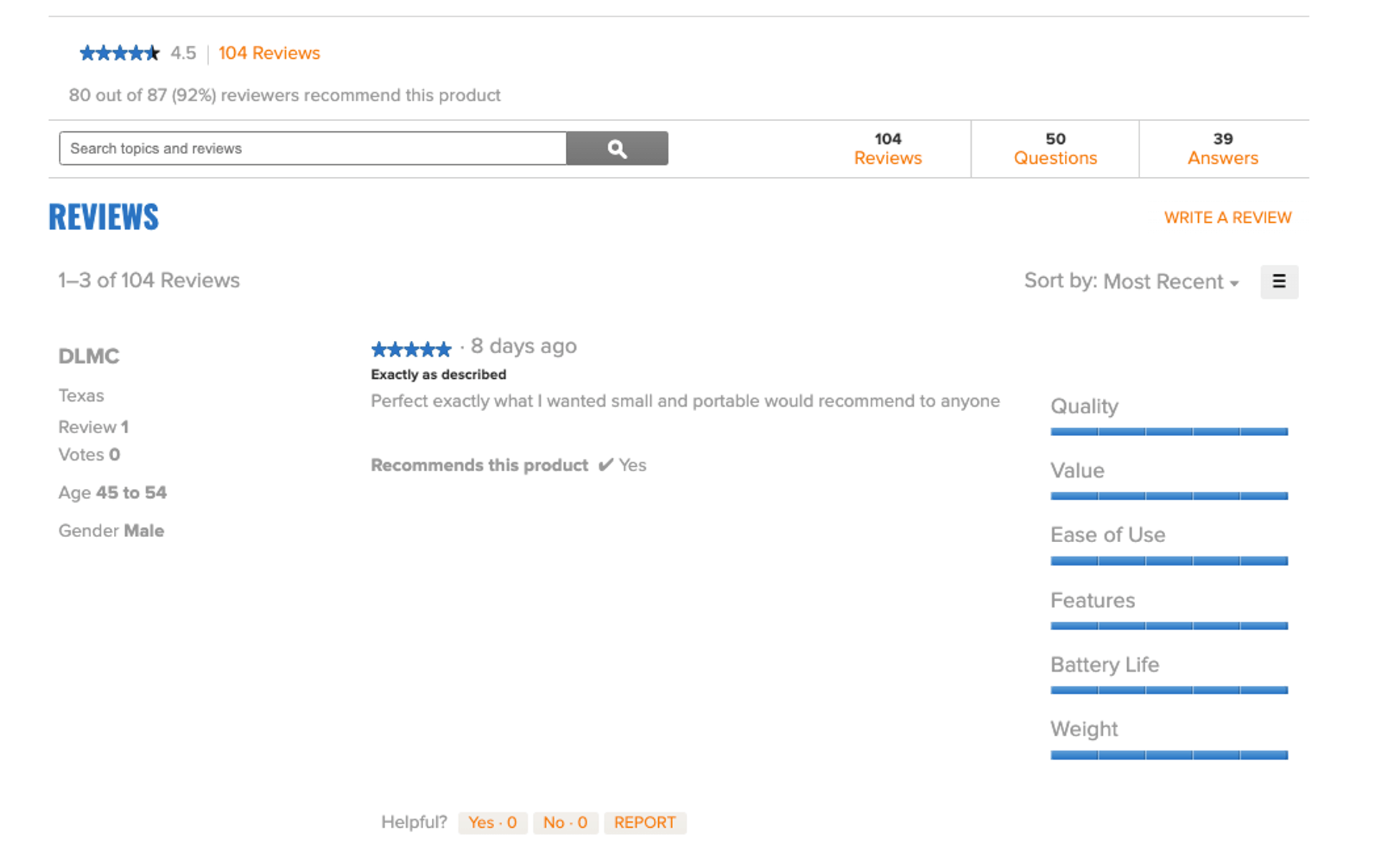 The brand also harnessed Bazaarvoice Galleries and began featuring user-generated content (UGC)— any images, reviews, videos, etc, created by an individual rather than a brand — on the site, driving a 59% lift in conversion for shoppers who engaged with UGC.
More reviews and UGC helped Midland Radio increase revenue, improve sentiment, and instill more confidence in customers when purchasing one of its products.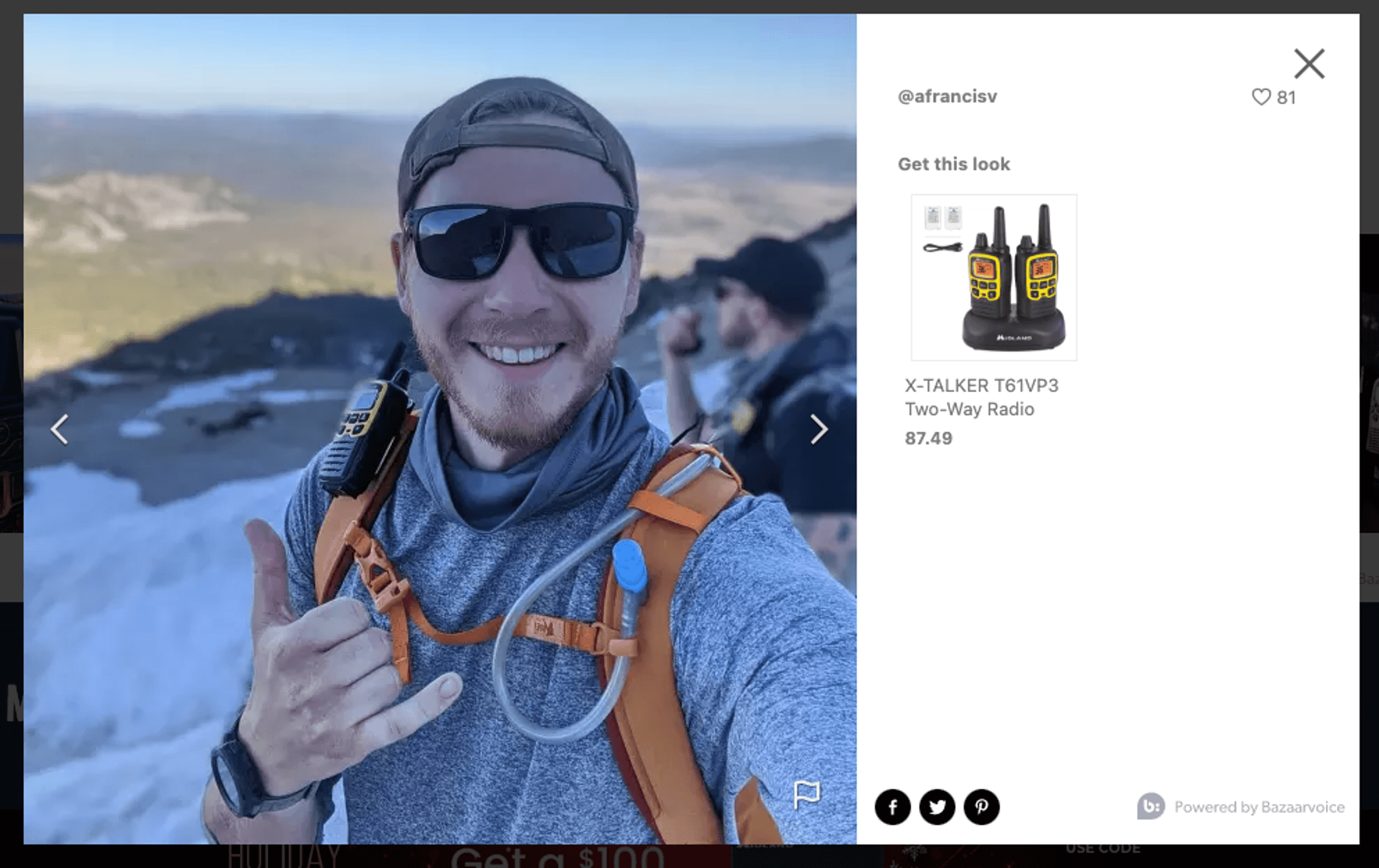 Ratings & Reviews and Retail Syndication boost overall sentiment for Midland Radio
When Midland Radio came to Bazaarvoice, one of its goals was to improve the brand's overall sentiment. The lack of online customer reviews was a significant deterrent because it made it harder for potential clients to feel confident about their purchases.
Before its partnership with Bazaarvoice, Midland Radio only had about 150 reviews on a small WordPress site, with no emails or text messages requesting customer reviews.
"It was pretty much just people wanting to leave a review on their own. And a majority of the time, if someone's going out of their way to leave a review, it's going to be a negative one, not a positive one," Kinsman said.
With Bazaarvoice's Ratings & Reviews, Midland Radio grew its online reviews to over 2,500.
Midland Radio didn't stop at increasing reviews. Through Retail Syndication, the brand pushed out all of these invaluable customer inputs to other online retailers selling its products, including Dick's Sporting Goods, Costco, Walmart, and Bass Pro Shops. The company also took those reviews and turned them into testimonials for Facebook ad campaigns, crafting a well-oiled marketing machine designed to improve customer trust.
"Bazaarvoice brings the most value to us in being able to easily collect reviews, syndicate them out to our major retailers, and help support our products on their site," Kinsman said.
The business has grown tremendously over the last five years — something Kinsman attributes to Bazaarvoice's review tool. And as the company has grown, so has its brand awareness.
"I've been going to a lot of events this year. People are more aware of our product than they've ever been," Kinsman said. "They think more highly of our products than they ever have in the past. We have more corporate partners with other major brands in the industry than we've ever had before."
Website and social media UGC raises average order value by 27%
UGC goes a long way in getting people to click "buy." According to our 2022 Shopper Experience Index, 53% of consumers say UGC, like social images from customers, makes them more confident in their purchase than professional photography. Additionally, 40% report that UGC makes them more likely to buy a product from an ad.
Midland Radio quickly found out just how powerful UGC is when they implemented Bazaarvoice Galleries on the site, which pulls UGC from Instagram, Facebook, and other social media channels. After implementing Bazaarvoice Galleries, Midland Radio saw a:
322% increase in time spent on site
143% increase in conversion rate
27% increase in average order value
According to Kinsman, they like to have a good mix of UGC and official product photos so that its pages don't look overproduced and people can better relate to the content.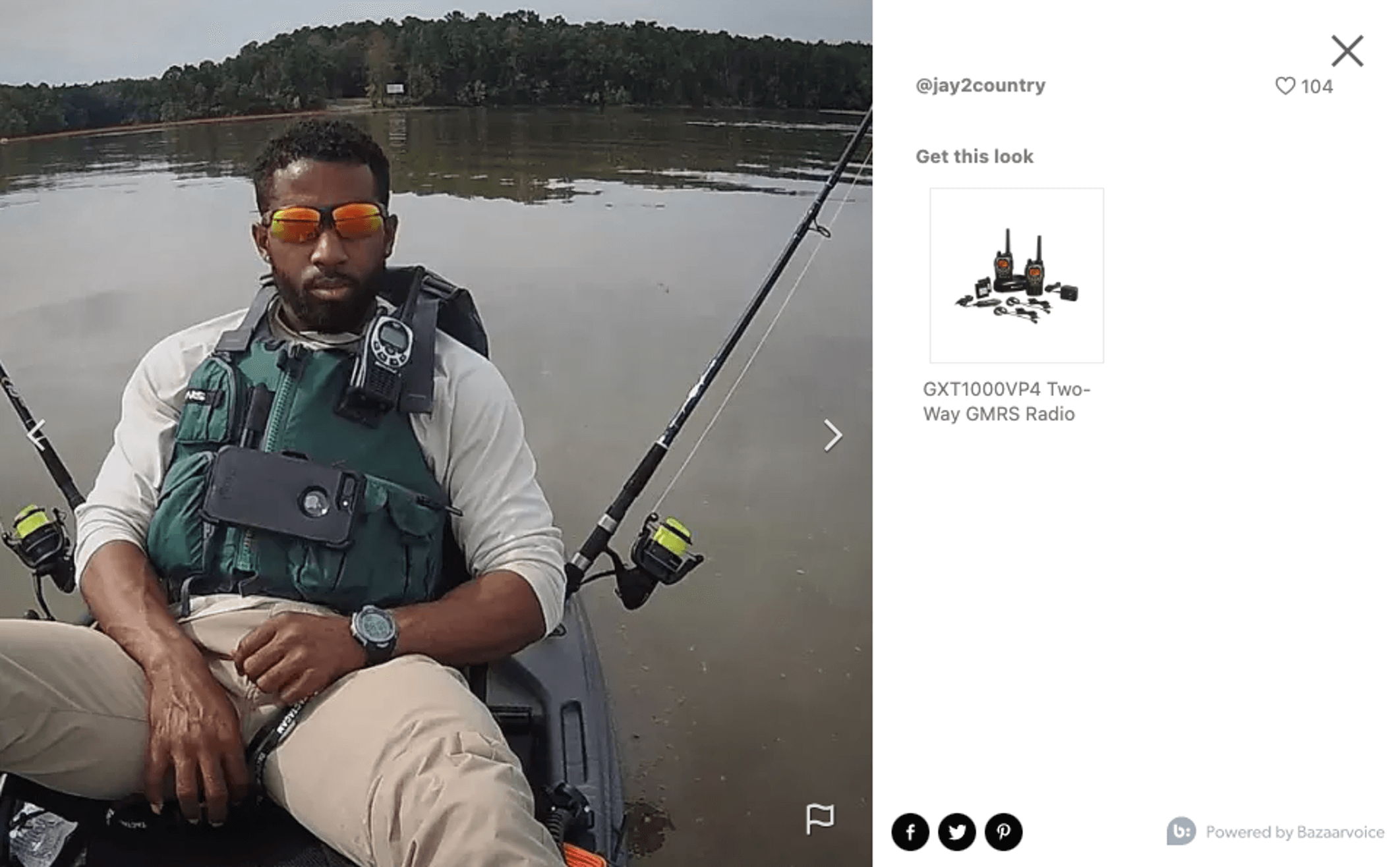 "It's a bonus when there are images involved, too, right?" Kinsman said. "So people cannot only read the reviews, but they can see the images of that person who actually purchased the product and what they think about it, good or bad."
With Bazaarvoice's Social Commerce, Midland Radio also benefits from tools like Reveal, Showroom, and Like2Buy, which it uses to increase sales on the company's Instagram page.
"We have Social Commerce enabled on all of our product pages that show our products being used by real people. And I think it really, really does help people with making a decision and seeing themselves using that product," Kinsman said.


Bazaarvoice Galleries and Ratings & Reviews help Midland Radio become a major player in two-way communication
With Bazaarvoice Galleries, Ratings & Reviews, and other Bazaarvoice products, Midland Radio is poised to become a leader in the two-way radio space. The company sells the No. 1 consumer walkie-talkie and weather radio in the country. Midland Radio is also the official communications sponsor of Jeep Jamboree, a big event that happens three to four times a year. New retail partnerships with large stores like Bass Pro Shops and Dick's Sporting Goods also help increase brand visibility.
"We have less than 50 people in our entire company, but you wouldn't know that," Kinsman said. "People perceive us to be such a larger company because of our digital footprint and the work we've done the last five years."
Eager to start harnessing the power of UGC for yourself? Try our UGC Value Calculator tool to see the impact UGC can have on your business. Or cut out the middle man and get in touch directly to get started.  Request a demo here.
---
Products featured:
143%
Increase in conversion
with user-generated content
About the company
Midland Radio has been an Industry leader in radio communication technology for over 50 years. Providing Reliable Communication for off-road, agriculture, camping, RV, fish and hunt, ski and snowboard, business, and emergency preparation community.
Client since 2017
We have Social Commerce enabled on all of our product pages that show our products being used by real people. And I think it really, really does help people with making a decision and seeing themselves using that product.
Andrew Kinsman
Director of Marketing Shared Services, Midland Radio