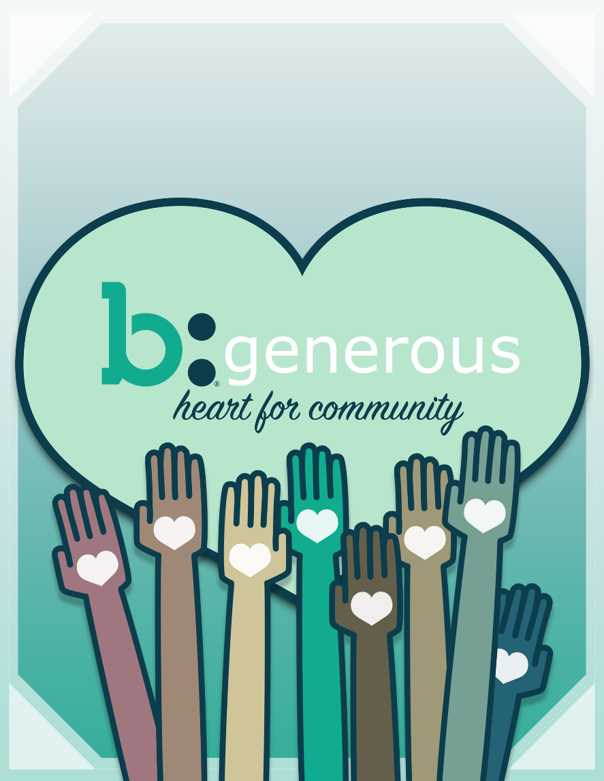 When a business says it has core values, it can be an effective recruiting tool. Whatever the values might be, they give job candidates an idea of what traits and characteristics your workplace prizes. Now, this isn't true for all companies. For some, core company values are more of a checkbox to tick off (and no, ping pong doesn't count as a core company value). But when those core values are part of the daily lives of everyone who works at a company, they can define the broader company culture.
Take Bazaarvoice, for instance. We have seven core company values, and it's hard to forget what they are — they're plastered to our walls, talked about in company meetings, and employees even get awards for demonstrating them.
We also manage to bring these values into our everyday workflow with an employee engagement and recognition tool called YouEarnedIt. On YouEarnedIt, you can send points to a coworker for helping you in a tight spot or for being a nice person. And just like you can send points, people can send you points for helping out or doing something that stood out. Once you've received enough points, you can redeem them for a number of prizes and gifts.
The best part: Every time someone sends points to someone, they must select a core value that that person demonstrated. When writing this blog post, for instance, I asked some of my coworkers to help out and contribute their thoughts — when they did, I sent them 25 points for teamwork.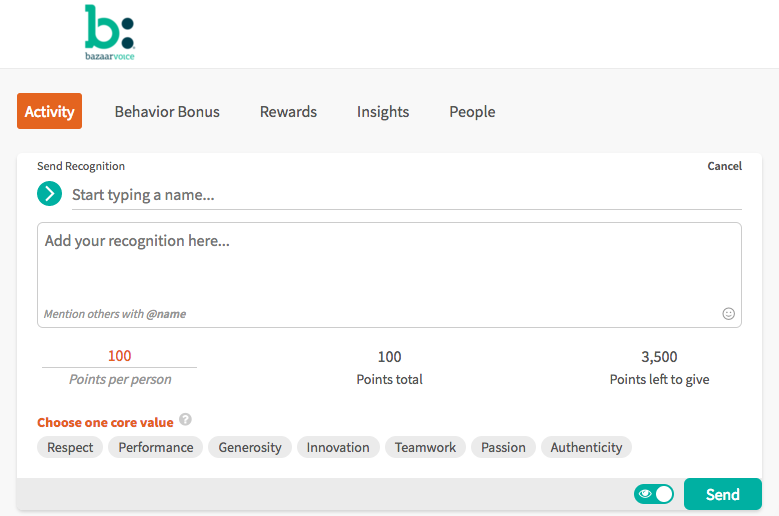 But one of our core values, generosity, is especially apparent this time of year when we host our annual b:generous week, a full week dedicated to volunteerism across each of our offices. With b:generous week starting next Monday and in the spirit of celebrating generosity, I used YouEarnedIt to see which employees were frequently choosing to donate their time (and their points) to charity.
The group below represents a number of different roles and offices, which goes to show that our company culture is strong enough to span departments and countries. Here's how Bazaarvoice defines generosity.
---
Iliana Rodriguez, Client Success Director, Austin, TX
I define generosity as the giving of myself, my time, and my resources to organizations and causes that are impacting the greater good and helping those in need. It's making sure I'm thinking beyond myself — giving myself time to reflect, gain perspective, and hopefully make someone else's life a little better along the way.
Working with animals or kids through these organizations helps me feel like I'm moving the needle on the love radar and doing my part to make things a little better while I'm around.
She's generous to:
Daniel Brooks, Quality Assurance Software Engineer II, Austin, TX
Generosity is choosing to give up something of value in a way that increases the collective value or utility more than what was lost. The value of a healthy planet is greater than the effort required to preserve it. It helps more to receive a unit of blood than it hurts to give it. It costs more to live in grinding poverty than it costs to keep someone from landing there. To be generous is to lessen the concept of self from the pursuit of happiness.
He's generous to:
The Sierra Club — I'm a Sierra Club member and offset my calculated carbon output every month.
Lori Bainborough, Marketing Manager, Client Programs, Austin, TX
For me, generosity means giving – items, time, money – without caution and without recognition. I don't ever ask myself "can I afford these things?" when I give. I just know someone else needs them more than I do. 
I feel everyone should have bare necessities like food and love and compassion. A hug and sandwich. On the street, those two things go a long way for people. And, they don't want to feel alienated, so conversation is something I try to give as well. Pets want — need — love. Belly scratches, walks, and a clean kennel.
She's generous to:
Bazaarvoice fundraisers — some employees' families have been in need, so I've given up points for those causes
The homeless: people and pets
Amy Constant, Senior Technical Writer, Austin, TX
 For me, I donate and volunteer because I'm so blessed in life. I have a lot of family and support, I have a great job, and I live in a wonderful city. So, I share the love and give back!
She's generous to:
Keep Austin Fed — Their mission is to deliver surplus food to those in need. It addresses two problems that are especially acute these days: food waste and food insecurity.
Cynthia Sadler, Data Scientist, Austin, TX
My personal definition of generosity is being helpful and generous to others in need.
She's generous to:
The Central Texas Medical Orchestra – We're a non-profit orchestra made up of members of the medical community. What I really love about this organization is that each of the 4 concerts we do each year is a fundraiser for a health-related organization in the Central Texas area. Plus, we get to perform great music with great local artists.
Armgard Eichhoff, Director, EMEA Solutions Consulting, Munich, Germany
 Generosity means sharing your fortune with others. None of us got to where we are without being helped by someone, and I am only here today due to many people that believed in and supported me. This extends beyond money to time, knowledge, and happiness. I typically try to donate my points to charities that support children, as I believe that every little bit can help them towards a future with more opportunities.
She's generous to:
The Mikaere Foundation — This year, most of my points go to a very personal cause to support friends (and current and former Bazaarvoice employees) and their baby, who was diagnosed with NKH.
Ralph Munoz, Team Lead, Client Care, Austin, TX
My personal definition of generosity is being in a unique position to help others. Not everyone has the means or opportunity to help, especially if it's not your profession to help. I'm fortunate to work at Bazaarvoice where my managers and team are completely understanding of what I do, and they all provide immense support of my volunteer work.
He's generous to:
Texas Search and Rescue – TEXSAR only responds to the requests of government agencies, and we never charge for our services. All of our training and equipment is paid for out of pocket by members. I've been with them since February 2015, and my first outing was during the Memorial Day floods. My phone is always on for TEXSAR, and I never know when the next call will be. One call was at 8pm before getting my second slice of Pie on Thanksgiving.
Christopher Rapaport, Senior Business Strategy Consultant, Amsterdam, Netherlands
Most of us have one of two resources – time or money (if we have both, great!). Generosity is using the resource that we have to actively make someone's life better. It shouldn't be important that we know the person affected, or perhaps the cause doesn't focus on human conditions at all (environmental or animal). For my wife and I, what is important is that we leave our environment in a better place than when we arrived.
Next year, we are looking at starting a programme through which homeless Dutch people in Amsterdam can provide 1-hour conversational Dutch lessons to expats over a coffee.
He's generous to:
The Mikaere Foundation — We organised a Bazaarvoice run in Amsterdam in to support my coworker and his family. This is in association with the Thames Walk in London, but given our small office size, my wife and I have led this initiative.
---
Next week, Bazaarvoice employees in New York City, Austin, Munich, Paris, London, Belfast, Amsterdam, and Sydney will set aside time from our normal work days to donate more of our time, money, and energy to some of the causes mentioned in this post and many others. To see how we celebrate b:generous week, follow #livebv on Twitter and Instagram.