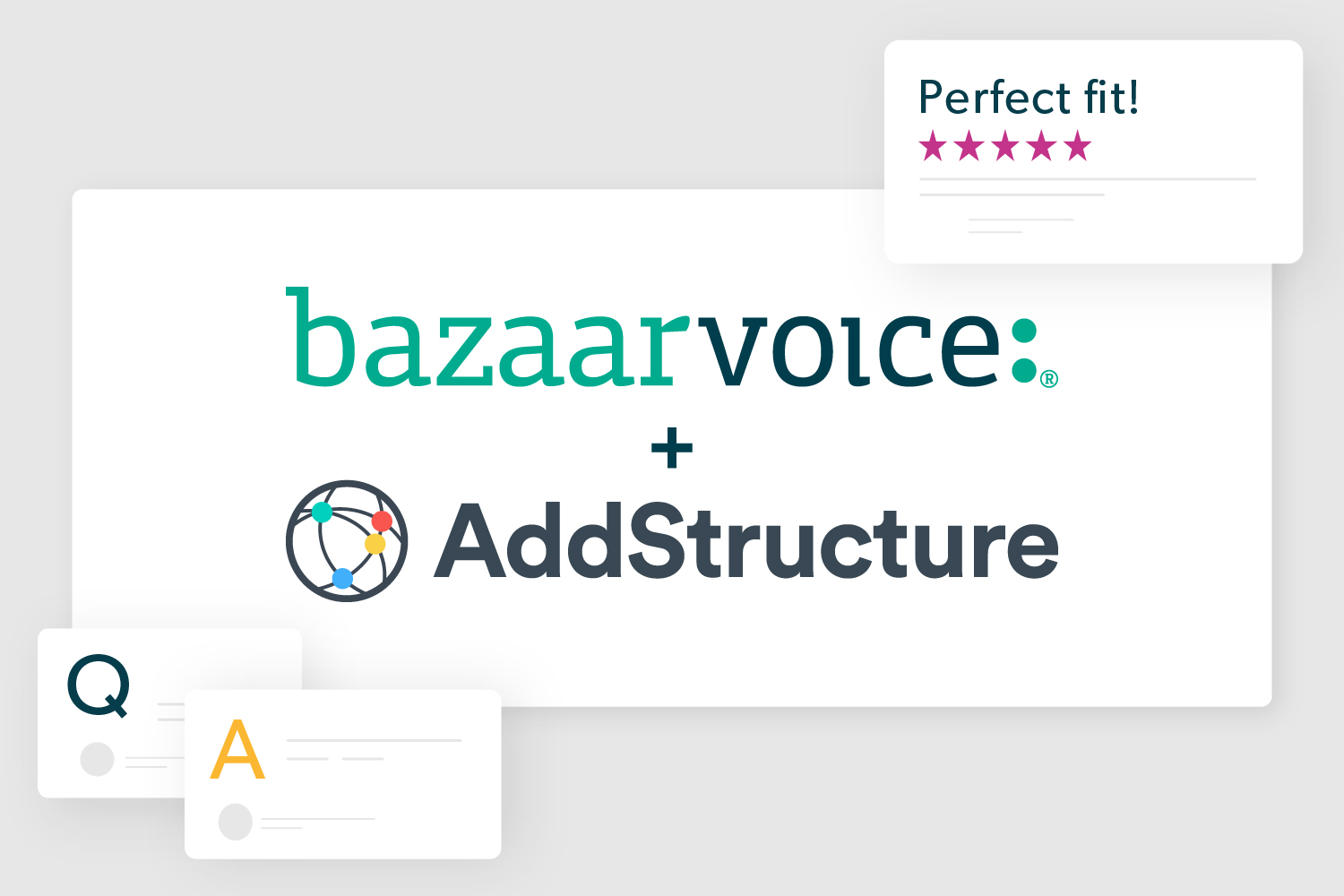 Since I joined Bazaarvoice five years ago, I've watched the number of reviews across our network of brands and retailers grow to nearly a billion and the number of connections between brands and retailers skyrocket by 100X, as our syndication strategy has flourished with the addition of thousands of new brands and retailers in our network.
Because of this growth in our content volume and network, many products now have hundreds or thousands of reviews. But from our observations, few shoppers take the time to read all the reviews about any product. Distilling "what's good" and "what's bad" about a product and making those insights quickly available to shoppers is a frequent request from retailers and brands that work with us. Today's news is so exciting because it means we can serve customers by helping them make better purchase decisions when they shop inside the Bazaarvoice Network.
We're excited to announce that Bazaarvoice has acquired AddStructure, which is hands-down the best firm we've seen leverage natural language processing and machine learning to create specific applications for e-commerce and consumer-generated content (CGC).  Since its founding and growth in the Techstars Retail Accelerator, a program in partnership with Target, AddStructure has worked with some of the largest and most innovative retailers – such as Target and Best Buy – to summarize large amounts of CGC to help surface the most useful information and improve search and discovery for shoppers. AddStructure is leading the pack in solving difficult problems in e-commerce — like knowing that "quiet" is good for dishwashers, but bad for headphones. Simple natural language processing tools simply can't compare to what the AddStructure team has built.
This closely follows the acquisition of Bazaarvoice itself by Marlin Equity Partners. A key part of our decision to go private was to deliver on our long-term strategy of increasing value to all stakeholders in the Bazaarvoice Network of consumers, brands, and retailers. Acquiring AddStructure is the first step in a process to do just that.
AddStructure's advanced capabilities in natural language processing and machine learning are an incredible addition to Bazaarvoice's technology stack. We have already started work to integrate all of AddStructure's products into the Bazaarvoice offering. But we're most excited about AddStructure's technology as a platform for future innovation and to help us achieve our mission of building the world's smartest network of consumers, brands, and retailers, so that every shopping experience feels personal.   
We'll begin by rolling out an advanced version of review summarization and follow up by improving the speed and accuracy of automated moderation. Both of these features are important to our core business, and we can start rolling them out to our clients right away.
Further improvements to our product catalog, search engine optimization tools for category-level pages, and other applications across our Ratings & Reviews, Questions & Answers, and Curations platforms are also in the works. In an internal demonstration project, AddStructure co-founder and Chief Technology Officer Will Underwood showcased the ability to build a grocery list with the sound of his voice. We couldn't be more excited to explore these new technology additions, while we develop the future of shopping alongside our clients.
AddStructure's content summarization and product graph have been developed to serve English-language clients and, initially, these enhancements are available to sites with English-language content. However, the AddStructure team believes access to one of the world's largest databases of content in other languages will accelerate the development of the machine learning tools and product knowledge graph necessary to successfully work in global languages with Bazaarvoice's global clients.
Clients that use AddStructure today will continue to receive the great products and support they have historically received. We'll be looking forward to adding members of AddStructure's client success team to Bazaarvoice, so we can begin working together to visit our current clients and discuss different synergies in the post-acquisition environment.
We believe that AddStructure will supercharge our internal investments in data science and data analytics. What's more, there are numerous other natural language processing capabilities that remain interesting to us from an acquisition and internal development standpoint. If what you read above is exciting and you would like to join one of the best teams in data science working on one of the world's largest sets of consumer data, please connect with us on the Bazaarvoice Careers page.
We couldn't be more excited to welcome AddStructure into the Bazaarvoice family, as we build the future of consumer-generated content and enhance the e-commerce experience for brands, retailers, and consumers.