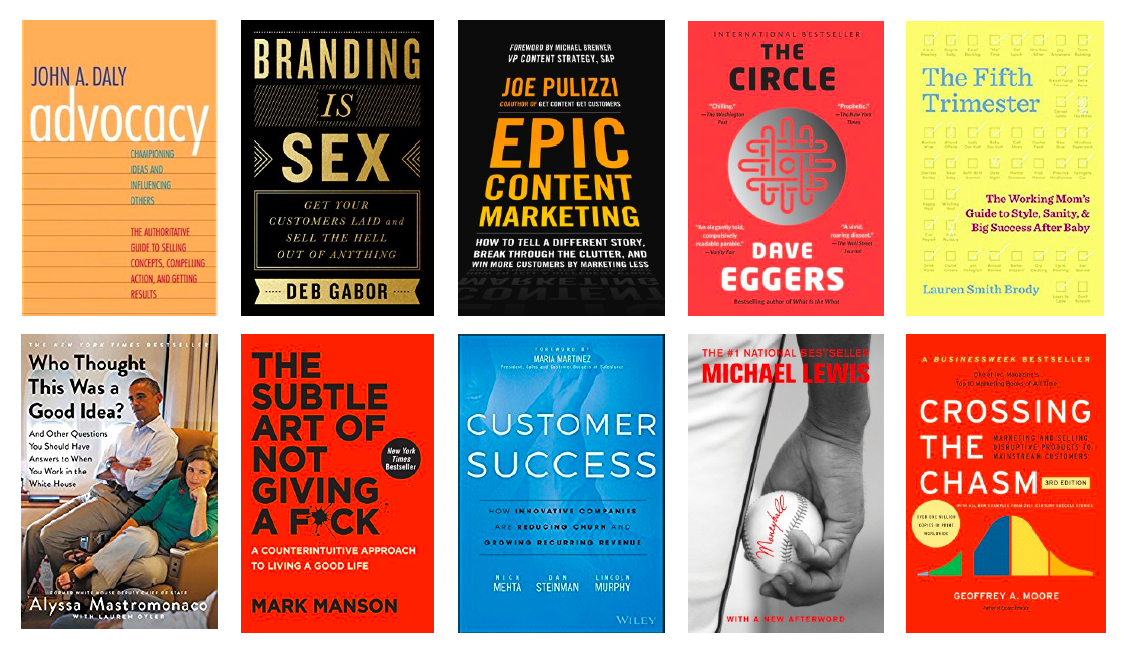 It's almost September, and that means students everywhere are heading back to school. For the rest of us in the real world, we're emerging from our vacations and getting back into swing of things. For those of us connected to the retail industry, we're anticipating the busiest time of the year — the holiday shopping season. With one long weekend yet to savor, now is the time to ease your brain back into work mode. Students have their own back-to-school reading lists, so we've compiled our own list for marketers. Nowadays, reading lists for anyone under 22 can span from classic to current, To Kill a Mockingbird to Divergent. In the same spirit, we asked our marketing department for their all-time favorite and new and noteworthy recommendations for marketing books. Here's our back-to-school reading list for marketers, from marketers.
Practical Advice for Marketers
Advocacy: Championing Ideas & Influencing Others
By: John A. Daly
Recommended by: Adri Nowell, Director, Product Marketing, Brands
"Advocacy is such a hard learned skill (IMHO), and this book does a great job of helping you understand how you can better create advocates for your ideas."
All Marketers
Are Liars

Tell Stories
By: Seth Godin
Recommended by: Gina Nocera, Advertising Marketing Analyst
"I bought this book when I got this job in an attempt to learn some marketing basics. It focuses on digital and content marketing, which is pretty cool since the majority of advertising books that I found weren't as new and, therefore, were a little broader than what I was looking for."
Branding is Sex: Get Your Customers Laid and Sell the Hell Out of Anything
By: Deb Gabor
Recommended by: Amelia Carry, Product Marketing Manager, Emerging Products
"Perhaps I'm a biased reviewer since I've worked with Deb in the past and know first-hand how real, energetic, and creative she is. But I have been in B2B tech marketing for my entire career, and I'll be the first to tell you that a lot of companies in this business are, well…not that great in the sack. Deb's new book spills the beans on how to look beyond buzzwords, create emotional bonds with customers, and get your groove back.
Customer Success: How Innovative Companies Are Reducing Churn and Growing Recurring Revenue
By: Nick Mehta and Dan Steinman
Recommended by: Todd Greenbaum, Marketing Manager, Client Programs
"I'm responsible for our client advocacy program, so I work very closely with our clients and our Client Success team. Our Client Success team is a big differentiator for our business, and this book helped me understand the core concepts of Client Success. Whether or not your company has a Client Success department, the importance of understanding what success looks like for your customer is applicable to any marketer."
Epic Content Marketing: How to Tell a Different Story, Break through the Clutter, and Win More Customers by Marketing Less
By: Joe Pulizzi
Recommended by: Aaron Winston, Content Manager
"In Epic Content Marketing, Joe Pulizzi clearly lays out the history of how businesses have employed content marketing while showing what has worked and what hasn't. More than that, he goes into great detail — in a fun, easily digestible way — about all the constituent components that make a successful and repeatable content marketing program. Perhaps most interesting is how Pulizzi couches the rise of content marketing in the fragmentation of the media at large. When there are no longer between three and five national news sources but hundreds, brands are more able than ever before to become a trusted voice in the news space. This is a must read for both the aspiring and veteran marketer."
Who Thought This was a Good Idea: And Other Questions You Should Have Answers to When You Work in the White House
By: Alyssa Mastromonaco
Recommended by: Erin Pohl, Senior Events Manager
"A must read for any event marketer! This book is written by former White House Deputy Chief of Staff, Alyssa Mastromonaco. Basically, if I think my job is stressful, imagine being the person responsible for an event for the President, his staff, and his security in a foreign country during a re-election year. The ultimate memoir about a woman who basically made sure everything got done (including getting tampon machines installed in the White House women's bathrooms). She's my hero!"
Weekend Language: Presenting with More Stories and Less PowerPoint
By: Andy Craig and Dave Yewman
Recommended by: Brianna Byers, Associate Product Marketer
"I first read Weekend Language when Bazaarvoice had the author, Andy Craig, speak last year at a sales training. My biggest take away was to FORGET ABOUT POWERPOINT and think about the story you are telling. People are great at communicating with each other on the weekends, so incorporate that 'weekend language' and storytelling into everything you do."
Inspiration & Innovation
Crossing the Chasm: Marketing and Selling Disruptive Products to Mainstream Customers
By: Geoffrey Moore
Recommended by: Patrick Kilgore, Senior Group Product Marketing Manager
"My all-time favorite — it was interesting to learn about the growth stages an organization goes through and how to go from a small or mid-sized company to a world-class business."
Emotional Agility: Get Unstuck, Embrace Change, and Thrive in Work and Life
By: Susan David
Recommended by: Alden Schell, Director, Brand Marketing & Content Strategy
"I was introduced to Susan David via an episode of the HBR Ideacast and loved reading (and rereading) this book. Whether it's relationships at work or at home, the way we respond to experiences shapes everything in our lives. I'm sure I'll be revisiting the concepts in this book for many years to come and find new meaning and applications each time I'll get to read!"
The Fifth Trimester: The Working Mom's Guide to Style, Sanity, and Big Success After Baby
By: Lauren Smith Brody
Recommended by: Alden Schell, Director, Brand Marketing & Content Strategy
"As a new mom, I found such rich guidance in this new title about returning to work after having or adopting children from working mom and chief inspirer, Lauren Smith Brody. I've gifted and lent it to all the new working mamas in my life. It was a game changer for me as I've made the transition from working person to working parent."
Mindset
By: Dr. Carol S. Dweck
Recommended by: Maria di Martino, Senior PR Manager, EMEA
"This book explains how there can be two main type of mindsets — fixed or growth — and how by moving from a fixed mindset to a growth one, we can unleash our potential and achieve our goals, regardless of our skills. It's a great read to help push yourself to achieve objectives in new areas or try harder where you failed before. Overall, a great book to help with motivation and a good read as "back-to-school", considering some people might want to start refreshed, with a new approach to be more successful."
The Subtle Art of Not Giving a F*ck: A Counterintuitive Approach to Living a Good Life
By: Mark Manson
Recommended by: Gina Nocera, Advertising Marketing Analyst and Amelia Carry, Product Marketing Manager, Emerging Products
Note: This was the only book to be recommended by multiple people!
"My all-time favorite business book also happens to be "new and noteworthy" (according to Barnes & Noble). It talks a lot about motivation, prioritization and dealing with work/life balance in a realistic way." – GN
"This book offers refreshing – and hilarious – commentary on how to slow down, take it easy, and focus energy on the things that really matter. And as a Type A perfectionist with an armful of irons in the proverbial career fire, it's good to be reminded that my f*cks are a precious commodity that need be used wisely. If you need to take a step back and learn how to stop micromanaging your life, your team, or your to-do list, then you need to make friends with this book." – AC
Out-of-the-Box Picks
The Circle
By: Dave Eggers
Recommended by: Me! – Kerry Brunelle, Social Media Strategist
I had been hesitant to read this book because I hadn't heard great things about it. But being in my role and with the recent movie release, I felt like I had to. While I wouldn't say it was my favorite book by any means, I would recommend it for anyone in social media. Because it takes place in a post-Google, post-Facebook, post-Amazon world, it made me think harder, and more critically, about the future of social media. Plus, it's fiction and an easy read, which is perfect for easing your brain out of vacation mode."
Moneyball
By: Michael Lewis
Recommended by: Alison Kwong, Public Relations Manager, North America
"Years before "Big Data" became an industry mega-trend, this story chronicled a real-life application about how analyzing statistics and data can lead to improved outcomes. By making scouting decisions based on player statistics, the 2002 Oakland A's created one of the most winning teams in baseball despite how low the franchise's player salaries were in comparison to other ball clubs. What was originally considered a widely unpopular and disruptive approach to drafting players and setting batting lineups eventually transformed the future trajectory Major League Baseball. Now, it's cool to see how data analysis is a critical part of any role across so many industries. Pro tip: If you want to skip the book, the movie's pretty good, too."
That's 14 books on our back-to-school reading list for marketers, spanning everything from emotional intelligence and event management to innovation and negotiation. Your homework? We won't assign you the whole list, but you should pick out one or two to read, maybe start a book club with your co-workers. Trust us, it will give you the motivation you need to transition from summer vacations to fall planning.
Talk to us about your favorite business and marketing books in the comments or let us know on Twitter.