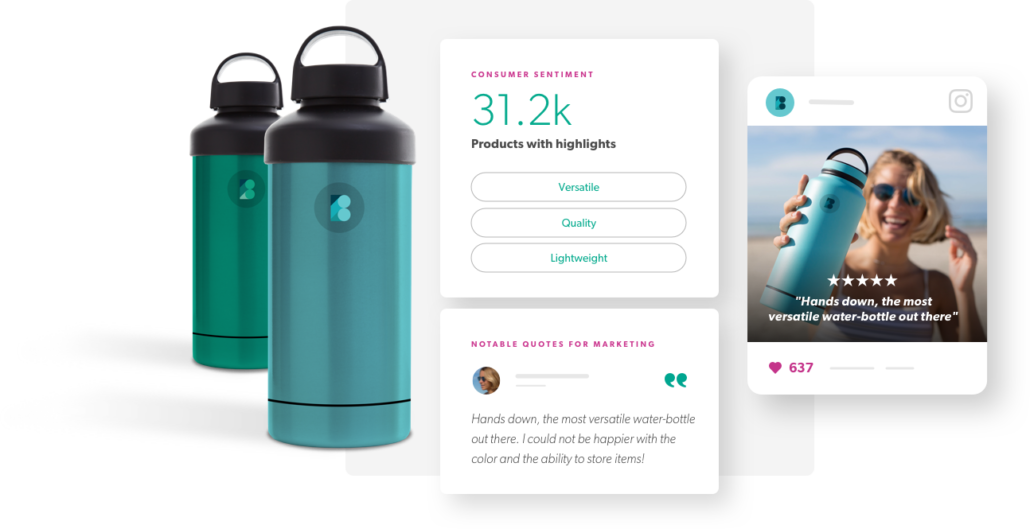 The Bazaarvoice team has been working hard to improve our new Insights and Reports applications since launch in 2019, and we wanted to let you know about some recent enhancements.
See more reviewer information in customer quotes from reviews
We added reviewer username, date, native or syndicated tags, and star rating to Notable Quotes for Marketing and other insights that use customer quotes from reviews. Try using these quotes from your ratings and reviews in email, social, or print campaigns!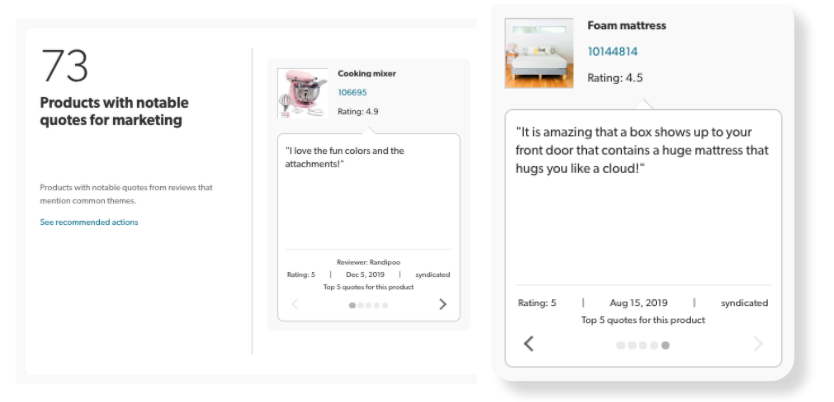 Narrow your focus with Insights and Reports filtering enhancements
Insights
Type ahead feature: Auto-suggests the product or category from your catalog as you begin typing the brand or product ID
Brand filter: Added "brand" as a new filter option on all Insight types
Reports
Product status filter: Focus your report on active or inactive products (as currently designated in your product catalog)
Product attribute filters: Focus your reports on specific products, based on their product attributes (standard and custom)
Locale filters: More descriptive labels for each language-country option
Moderation code filters: Report on content with specific moderation codes. Great to use with the R&R Export, for example, to send legally sensitive reviews (i.e. coded with "LI") directly to the legal department
Export the data you need, when you need it
Insights
Added a "brand" field on the export to these Insight types:

Products with questions that need an answer
Products with questions that need a response
Reports
Added a "run now" feature which gives you the ability to re-run any report on demand
Added new data fields:

Vendor Scorecard now includes # Questions (Approved) and % Questions Answered (Approved) which are more focused on content that is actually displaying on the site
Email Address of the review, question, or answer contributor (if provided)
Prioritize what products, brands, and categories need action
Coverage Opportunity report: A new template in Reports to help you improve your product coverage. With two new metrics (displayable reviews and product page views), you can now prioritize your review collection efforts by focusing on products that are viewed by shoppers but don't have any reviews yet.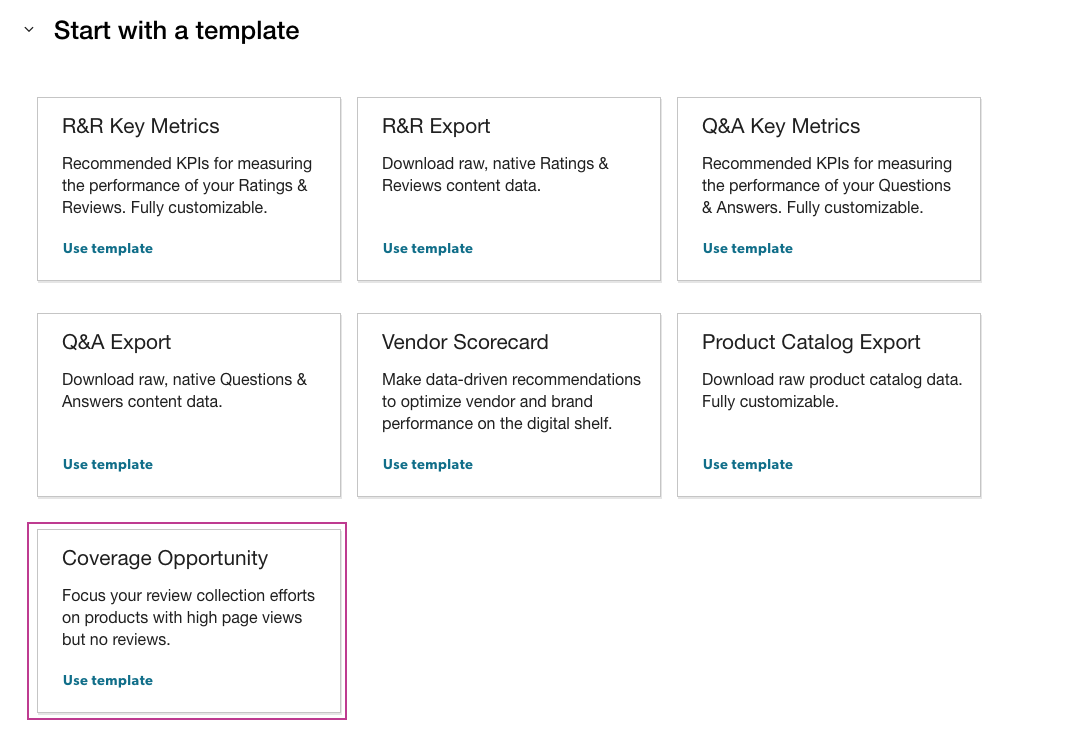 Brand and category roll-ups in Coverage and Performance insights: See popular brands/categories with few reviews, brands/categories with low average ratings, and brands/categories that need a response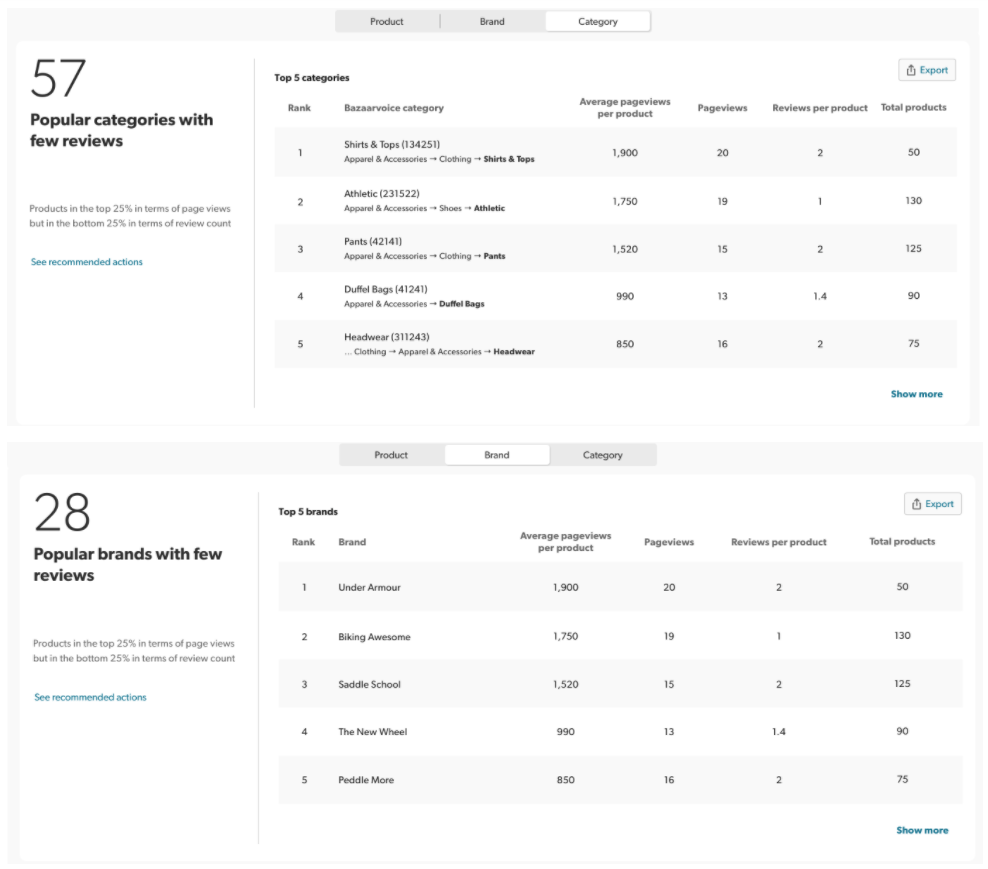 Manage and regulate users' access to sensitive data through PII data security permissions
New user permission for accessing personally identifiable information (PII): Permissions are enabled by Account Administrators for any of their users they deem suitable. Users with the permission will be able to create and download reports that contain data fields considered to be PII. This further demonstrates Bazaarvoice's strong commitment to uphold excellent data privacy standards on behalf of our clients and on behalf of their customers.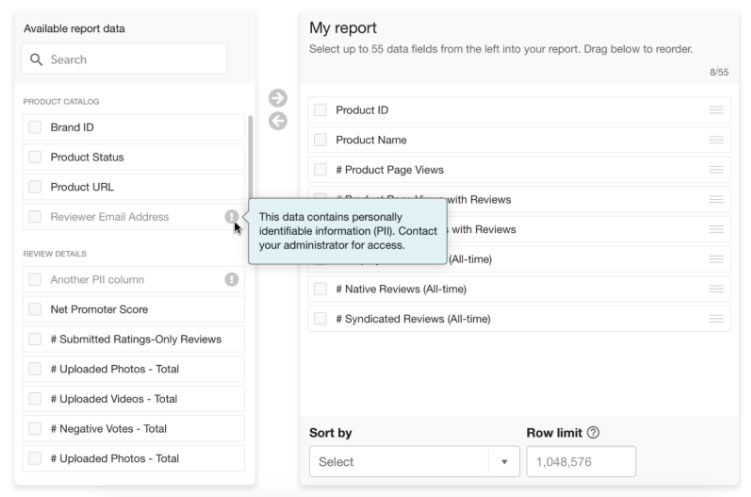 Insights and Reports availability
Platform: The Insights and Reports applications are available to all brand and retailer clients with access to Workbench excluding Distribute Only, Connections-only, RMS only, TryIt Single, Curations Only, and Collect Distribute Starter
Localization: Available globally
To access the application:
Log in to the Bazaarvoice Portal.
Click the menu located in the upper-left corner to view a list of your Bazaarvoice solutions.
Select Insights or Reports.
If your company has more than one client instance, use the client picker (located near the upper-right corner) to move between them. Type the name or scroll through the list to select the one you want.
For more information, visit Knowledge base for Insights and Reports or our Support community or reach out to your Bazaarvoice account team.