The retail shelf is so 2019. With global e-commerce sales expected to increase by 50% by 2025, winning the digital shelf game is the top priority for brands. Or at least, it should be. E-commerce brands that optimize their digital shelf will stand out from their competitors, attract more customers, and generate more sales online and in-stores.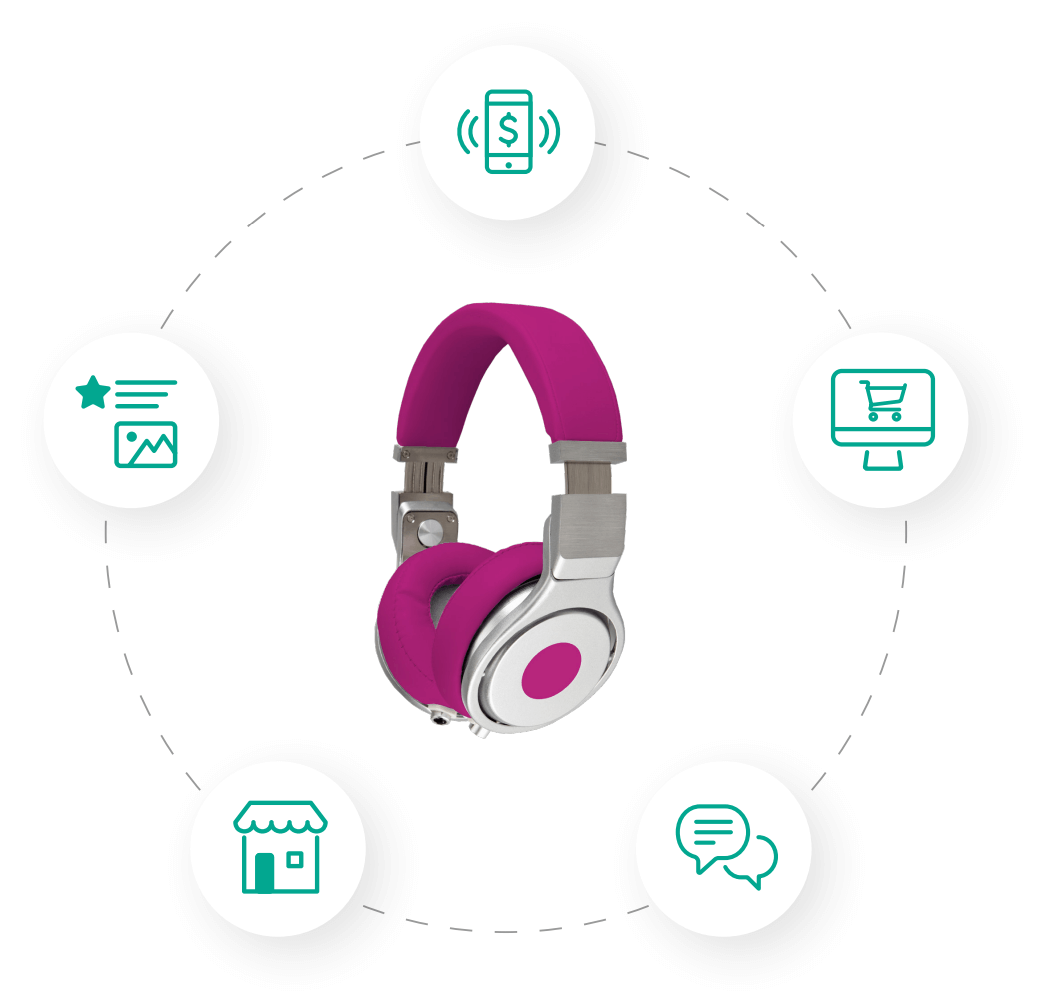 Chapters:
---
---
Picture the glossy shelves at Sephora, showcasing lipsticks, eyeshadow palettes, face masks, perfumes, and hair accessories to entice shoppers as they browse the store. They're typically grouped by product category, and brand displays feature essential product information. Plus customer favorites and suggested product bundles. When brands compete with each other in stores, they need to use the limited real estate of a retail shelf to get their customers' attention fast.
Il en va de même pour le linéaire numérique. Aux présentoirs bien éclairés du magasin physique de Sephora succède le design élégant de son site Web, où les carrousels d'images mettent en avant les produits les plus vendus, les coffrets cadeaux et les offres spéciales. La stratégie est à peu près la même : éveiller l'intérêt des consommateurs, leur présenter la marque et ses produits, et les convaincre d'effectuer un achat et de revenir pour découvrir d'autres articles.
Qu'est-ce que le linéaire numérique ?
Le linéaire numérique est le lieu où convergent tous les canaux et les points de contact. C'est l'espace en ligne où les consommateurs découvrent votre marque, apprennent à la connaître et achètent ses articles, ce qui se répercute aussi sur les ventes en magasin. Au lieu de parcourir les rayons, de comparer les produits similaires et de se diriger en caisse, les consommateurs utilisent le linéaire numérique pour effectuer le parcours d'achat en ligne.
Voici comment les utilisateurs découvrent votre marque en ligne (et en magasin)
Lorsque les consommateurs recherchent des produits en ligne, ils utilisent le linéaire numérique pour commencer à parcourir les différentes options disponibles.
Consumers typically begin their online shopping journey with a simple search on Google or their preferred online retailer. But they're also doing it on their phones while in-store as well. Like a store associate in a brick-and-mortar retail store, search engines direct consumers to what they're looking for online. Whether someone is browsing a general product category or searching for something specific, the search results page will turn up a range of relevant products.
Voici d'autres canaux permettant aux consommateurs de trouver vos produits sur le linéaire numérique :
Descriptions et pages de produits
Réseaux sociaux
Places de marché tierces
Unlike the physical retail shelf, the digital shelf can be customized to each shopper's needs. By analyzing customer data, you can deliver highly personalized marketing messages, like product recommendations and special offers, that are more likely to convert.
Voici comment les consommateurs recherchent vos produits
Une fois qu'ils ont trouvé votre marque, les consommateurs peuvent utiliser le linéaire numérique pour s'informer en analysant vos produits et en vous comparant à la concurrence.
Si le linéaire numérique ne peut reproduire entièrement l'expérience d'achat offerte en boutique physique, il réunit des contenus précieux pour aider votre marque à se différencier. Par exemple, en magasin, le consommateur peut sentir ou tester un produit, mais les informations dont il dispose sont limitées. Sur le linéaire numérique, il a accès à des vidéos dans lesquelles un spécialiste présente les principales caractéristiques de l'article ainsi que ses nombreux usages.
Les utilisateurs peuvent également se renseigner sur vos produits à l'aide des outils suivants :
Notes et avis
Questions-réponses
Leadership éclairé
Influenceurs
Pour aider vos consommateurs à trouver ce qu'ils cherchent, enrichissez votre site Web et les fiches-produits de vos partenaires distributeurs avec des informations clés sur votre marque et vos articles. Cela facilite le processus de réflexion en affinant les options disponibles.
Voici comment les consommateurs achètent vos produits en ligne
À la fin du parcours, le linéaire numérique est l'endroit où les consommateurs décident de faire des achats sur le site Web de votre marque ou d'un autre distributeur en ligne, ou de s'en aller.
Selling directly to your customers on your website gives you complete control over how they perceive and interact with your brand. But retail partnerships — both e-commerce and brick-and-mortar — are the key to unlocking revenue growth. A 2019 survey found that 55% of brands saw increased sales and revenue from their retailer partner programs.
Les consommateurs peuvent également acheter des produits de votre marque par le biais des canaux suivants :
Social commerce
Publicités numériques
Promotions
La plupart des consommateurs ayant déjà un détaillant privilégié, en ligne et physique, il est peu probable qu'ils achètent directement auprès de votre marque, à moins qu'ils ne vous soient déjà fidèles. En vendant vos produits par le biais d'autres plates-formes, vous facilitez l'accès à votre marque pour les consommateurs.
Pourquoi le linéaire numérique est-il essentiel pour attirer davantage de consommateurs ?
Dans un marché de l'e-commerce de plus en plus concurrentiel, les distributeurs ont fort à faire pour se démarquer. Les linéaires numériques ne souffrent pas des mêmes contraintes d'espace que les rayons physiques. Le principal défi consiste ici à attirer l'attention et l'adhésion du consommateur pour éviter qu'il se tourne vers la concurrence.
Your brand's presence on the digital shelf drives online and in-store performance. Recent data shows that 66% of consumers prefer a hybrid of in-store and online shopping. Plus, 63% of shoppers use their phone in-store to research products online. Even if customers ultimately purchase an item in person, the digital shelf impacts how they find your brand in the first place.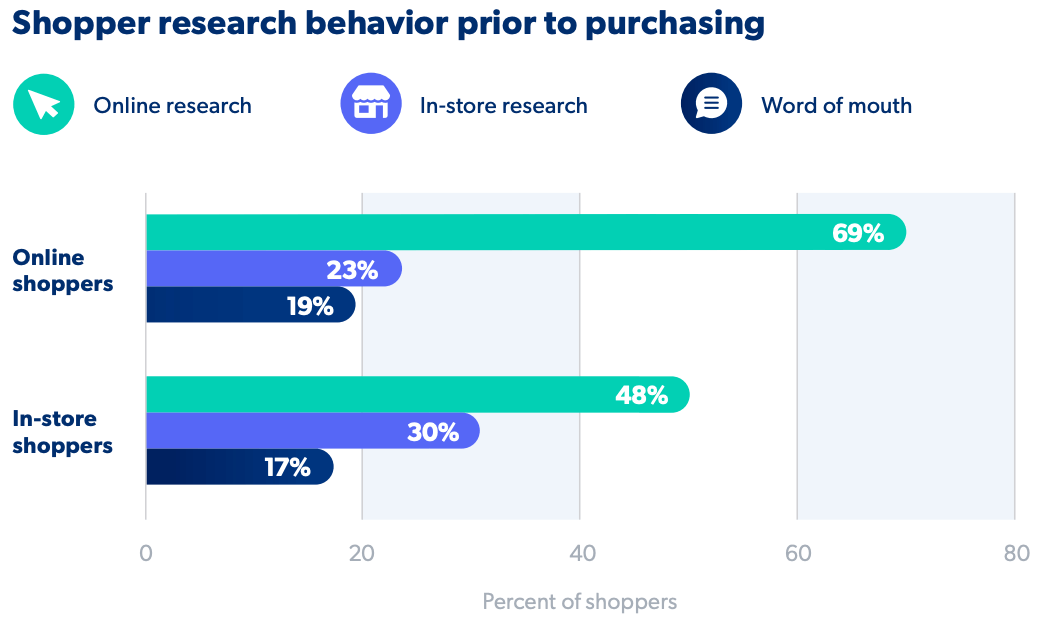 So how does the digital shelf unlock customer growth? Through two key aspects: visibility and credibility. Digital marketing, influencer marketing, retail partners, and ads make your brand more visible to your target audience. Then, by enhancing your brand's credibility through ratings, reviews, and other user-generated content (UGC), you will inspire trust in your products and attract more customers.
Take Land O'Lakes as an example. By syndicating over 30,000 reviews to online retailers, the leading food company expanded its digital shelf space to drive sales and improve customer engagement and satisfaction. After distributing their reviews to other retail sites, they were able to reach customers where a majority of them prefer to shop and win their trust.
8 bonnes pratiques applicables à votre stratégie de linéaire numérique omnicanal
If you want to stand out and win customers on the digital shelf, you need to provide an unparalleled shopping experience across all platforms. Let's dive into the top eight tactics for building a successful omnichannel digital shelf.
1. Optimize product visibility in search results
Shoppers typically discover your digital shelf through a web search, so your brand needs to appear in search results to get in front of customers. Today, 64% of online shoppers use a search engine while researching products. If you're not showing up on the first page of Google, then consumers probably won't come across your brand.
When designing product pages, consider how search engines will find your website. Include relevant keywords in your product title and description, especially long-tail keywords, to capture more specific searches. But don't go overboard and pack too many keywords on the page, or it will decrease the quality of your product copy. Balance is key.
For example, beauty brand Biossance tapped into the power of search engine optimization (SEO) to get in front of its customers. They identified keywords specific to their products, like ingredients, and integrated them into product names and descriptions. These pages are more likely to appear on the first page of search results for shoppers looking for rose oil or products with squalane or vitamin C.
2. Build user-generated content into the shopping experience
User-generated content helps customers build trust and confidence in their purchasing decision while they learn more about your products. In a 2021 survey of over 11,000 brands and retailers, customer engagement with UGC was linked to:
Une hausse de 144 % du taux de conversion
Une augmentation de 162 % du chiffre d'affaires par visiteur
Une augmentation de 13 % de la valeur du panier moyen
E-commerce tools display visual and social content from Instagram, Facebook, Twitter, Pinterest, TikTok, and more on your product pages. By showcasing content created by real customers, your brand gives potential buyers a chance to get authentic feedback from people they trust.
Global fashion brand River Island is a prime example of how to turn UGC into a tool for revenue growth. The brand sources images of its customers wearing their clothes from social media to put social content at the forefront of its marketing campaigns.
Après avoir publié des CGU visuels inspirants issus des réseaux sociaux sur ses pages d'accueil et de produits, River Island a constaté une augmentation du taux de conversion de 184 %. Ses pages de produits intègrent également une fonctionnalité « Achetez le look », qui permet aux shoppers d'ajouter des articles spécifiques présentés dans les CGU à leurs listes d'envies et favorise une expérience d'achat fluide.
3. Regularly update product descriptions based on customer feedback
By proactively listening to customer feedback, you'll improve your product pages before customers complain, request returns, or decide not to buy.
Ratings and reviews help you learn what features customers love most or how to improve a product. Plus, customer questions & answers enable you to identify communication gaps between your brand and your customers.
To incorporate customer feedback onto your product pages, comb through UGC — like photos, reviews, and customer Q&As — for valuable insights into what customers like, dislike, or don't know about your products. Then adjust your product descriptions accordingly. Say lots of reviews mention how easy to use your product is. That's a great feature to highlight in your product copy and images.
And if you're soft launching a new product, customer feedback can also help you fine-tune it before its official release.
Lemi Shine, a family-owned manufacturer of household cleaning products, dove into their customer feedback after sending samples to its Club Clean Freak sampling community. After analyzing the reviews, they were able to adjust messaging and even change products before the public launch to deliver the information and value that shoppers wanted.
4. Use multiple avenues to collect ratings and reviews
Ratings and reviews bolster your brand's digital shelf presence and consumer trust, but convincing customers to submit feedback can be challenging.
According to 66% of survey respondents, shoppers trust consumer reviews more than other formats like social and paid search ads. That's because ratings and reviews feature current, authentic content from real users, which helps customers feel confident about their purchases.
Alors, comment recueillir un maximum d'avis ? Ne vous contentez pas d'attendre en espérant que les consommateurs trouvent l'inspiration des mois après l'achat pour rédiger un avis. Exploitez plusieurs canaux de communication pour inciter les consommateurs à donner leur avis, tels que :
Demandes générales par e-mail : programmez l'envoi d'e-mails automatisés dans les 14 à 21 jours suivant l'achat, afin de remercier les consommateurs pour leurs commandes et de solliciter leur feedback.
Review request emails: Invite customers to post reviews on your website after purchasing a product, registering a product warranty, or subscribing to your newsletter
Emballage produit : invitez les consommateurs à laisser des avis en ajoutant un message sur l'emballage produit ou à l'intérieur, et envisagez de proposer une petite remise sur le prochain achat comme mesure incitative.
Cadeaux sur les réseaux sociaux : créez une campagne de hashtag sur les réseaux sociaux, dans laquelle les utilisateurs peuvent partager des CGU en ligne pour avoir une chance de gagner des produits gratuits.
Sampling programs: Get authentic feedback by sending free product samples to your most loyal customers in exchange for honest reviews
The apparel brand MeUndies overhauled its review collection strategy to increase review volume and engagement for new product launches. From adding a simple "Write a Review" button to product pages to sending follow-up review requests to customers who hadn't responded to the first email, MeUndies saw a 218% increase in review collection. Over a third of those reviews came from follow-up review requests.
5. Invest in social commerce tools
Social commerce enables your brand to reach new customers and supports the delivery of a seamless shopping experience. Over half of shoppers say they're more likely to buy a product on social media if they can click the post and get product info directly from their favorite platform.
To maximize your social channels' impact on your digital shelf, turn your social media into a shoppable storefront to leverage UGC and drive traffic and revenue. Like2Buy is the leading social commerce solution that transforms your Instagram feed into a sales channel so your followers can read your blog, browse products, make purchases, and more.
Urban Barn, a furniture and décor company, leveraged UGC across social media platforms to push traffic to their website. Consumers were redirected to Urban Barn's website, where they could shop their favorites from the brand's Instagram feed, resulting in a 59% lift in conversion and a 29% increase in average order value.
6. Be strategic about special offers and online promotions
Toutes les promotions et les offres spéciales ne se valent pas. Tandis que les offres et les promotions ponctuelles vous aideront à gagner de nouveaux consommateurs, les remises récurrentes ou valables ultérieurement vous permettront de les fidéliser. Afin d'optimiser l'impact de vos campagnes promotionnelles, créez-les en fonction de vos segments de clientèle.
Chaque type de promotion en ligne présente des avantages uniques qui permettent d'attirer des consommateurs spécifiques. Voici quelques offres spéciales à prendre en compte lors de l'élaboration de votre stratégie de linéaire numérique :
Offres valables à partir d'un certain seuil de valeur ou de quantité : attirez davantage de nouveaux consommateurs en leur proposant plus de rentabilité.
Offres réservées aux nouveaux consommateurs : ces remises permettent de convaincre les consommateurs hésitants d'effectuer un achat qu'ils auraient abandonné sans cela.
Remise sur le prochain achat : une fois qu'un consommateur a terminé son achat, incitez-le à recommencer, grâce à un coupon valable sur sa prochaine commande.
Remises sur abonnement : à des fins de fidélisation à la marque des consommateurs nouveaux et récurrents, offrez une remise de faible valeur pour les commandes récurrentes.
Amazon Subscribe & Save leads the pack when it comes to growing revenue through recurring subscription orders. One subscription results in a discount of up to 10%, while customers who add five or more eligible items to their subscription save 15%. The e-commerce giant unlocked new suggestive selling opportunities to drive sales through the combination of convenience and savings.
7. Create a sampling program for upcoming product releases
Let a small, controlled group test your new products before releasing them to a broader audience. A sampling program enables you to launch new products with reviews on day one and expand your digital shelf. Samples can also help you uncover potential problems and tweak your product or messaging before new items hit a wider market.
To launch a product sampling campaign, offer samples to your most loyal customers in exchange for reviews to boost review volume before publicly launching new products. By offering free products to customers, you'll encourage them to post a positive review on social media as a thank you for the sample. Of course, this doesn't guarantee positive reviews, but even negative reviews will add authenticity to your brand.
Burt's Bees, a leading provider of natural health and beauty care products, leveraged its customer loyalty program, Hive Helpers, in an early launch of its new cosmetics category. Only two weeks after Burt's Bees sent pre-released products to customers, 94% of those who received a sample submitted a review, resulting in over 300 reviews with a 4.48 average star rating.
8. Leverage the power of retail media networks
By advertising on a retail media network (RMN), your brand shows up on an online retailer's digital shelf, further increasing your visibility to shoppers. RMNs expand your digital shelf across all the channels consumers use — from web and mobile to social media — while providing valuable first-party customer data to create highly personalized ads.
When partnering with a retail media network, start by syndicating your content to link reviews from your brand's websites to your retail partners' sites. Then incorporate this content in your retail ads to show why customers love your products and inspire trust in your brand.
The cybersecurity leader Webroot had a loyal customer base and many glowing reviews, but these reviews were limited to the brand's native site. After syndicating reviews to retailers like Best Buy, Walmart, and Staples, Webroot's review volume exploded by over 9,000%. The Webroot team also reached a response rate of nearly 100%, enabling them to quickly resolve any issues and retain customers.
Enrichissez le linéaire numérique de votre marque avec les contenus générés par les utilisateurs
Certes, un linéaire numérique ne peut être performant sans des contenus de marque efficaces, mais pour qu'il génère un maximum de revenus, vous devez vous appuyer sur les personnes auxquelles vos consommateurs se fient le plus : les autres consommateurs.
As more brands discover the value of user-generated content, even household names like Dole Packaged Foods are amplifying their customers' perspectives to boost sales. After building a UGC program from scratch, Dole saw 2.3k new reviews and a 64% increase in conversions among shoppers who engaged with UGC.
The right end-to-end user-generated content platform can manage all aspects of your digital shelf strategy for you, from building brand awareness to increasing sales, and all the way to customer analysis.
To understand UGC's impact on your brand's revenue, conversion rate, and online and in-store sales, try our free UGC Value Calculator.