95%
Of the 40 million reviews on Target.com
are syndicated from brands in the Bazaarvoice Network.
Target sees up to 4x lift in conversion with user-generated content
Target has a goal to transform its digital experience from just a website to a destination where consumers can enjoy the full Target experience while shopping online. To deliver on this mission, the large U.S. retailer partners with Bazaarvoice to feature user-generated content (UGC) across its site, including ratings and reviews, questions and answers, and customer photos.
Visitors to the site who interact with authentic content from shoppers like them are more likely to buy, and they spend more.
"UGC is giving visitors confidence to make purchases. We see in our data that our conversion rate is up to 4x higher when a guest reads reviews, and our basket size is 8.75% larger compared to visitors who don't," said Matthew Hiltner, E-commerce Lead of Ratings and Reviews at Target.
Delivering a best-in-class online shopping experience
Target historically prioritized efforts towards its in-store experience. Product detail pages were seen as transactional and not a core component of the retailer's strategy. However, the retailer recently increased its attention and resources to enhance product pages, especially as shopping on Target.com continues to grow considerably each year.
"We strive to make our guest experience best-in-class and want shopping to be easy. Our overall growth strategy is really focused on UGC. Making our content better increases sales," said Hiltner.
Incorporating UGC as part of its product page evolution makes the pages more compelling, informative, and turns more shoppers into buyers.
"We've seen significant increases in e-commerce sales year after year that have outpaced the marketplace. This success is fueled by an increase in the number of shoppers buying online, but also by our focus on increasing our product content from images, reviews, and videos to instill confidence as our guests browse online," said Hiltner.
Collaborating with brands to drive mutual success
Target gets brands involved in driving sales of their products by educating the suppliers on ways to increase their review volume, coverage, and customer engagement on Target.com.
Target recently launched its own content scorecard that makes it easy for brands to better understand their product page content across SKUs. The scorecard ranks brands based on the quality of their product descriptions, volume of reviews, number of unanswered questions, and other product-level details, while also providing brands with recommended actions.
Brands can improve their position and boost sales on Target's site by multiplying the impact of every review by distributing them to Target. Of the 40 million reviews on Target.com, 95% are syndicated from brands in the Bazaarvoice Network.
"When you consider the number of categories and products that we sell, gathering reviews directly from brands that collect their own reviews is the number one way that Target can amass such high volume. Growing review volume and coverage is always goal number one," said Hiltner.
Jumpstarting review collection with product sampling
Suppliers also have access to the retailer's Hey, Bullseye sampling program that puts their high priority products into the hands of Target's most loyal shoppers in exchange for authentic and honest reviews on Target.com. This turnkey solution is beneficial for seasonal products with short shelf lives and peak sales periods, existing items that need fresh reviews, high-consideration products, and Target exclusives.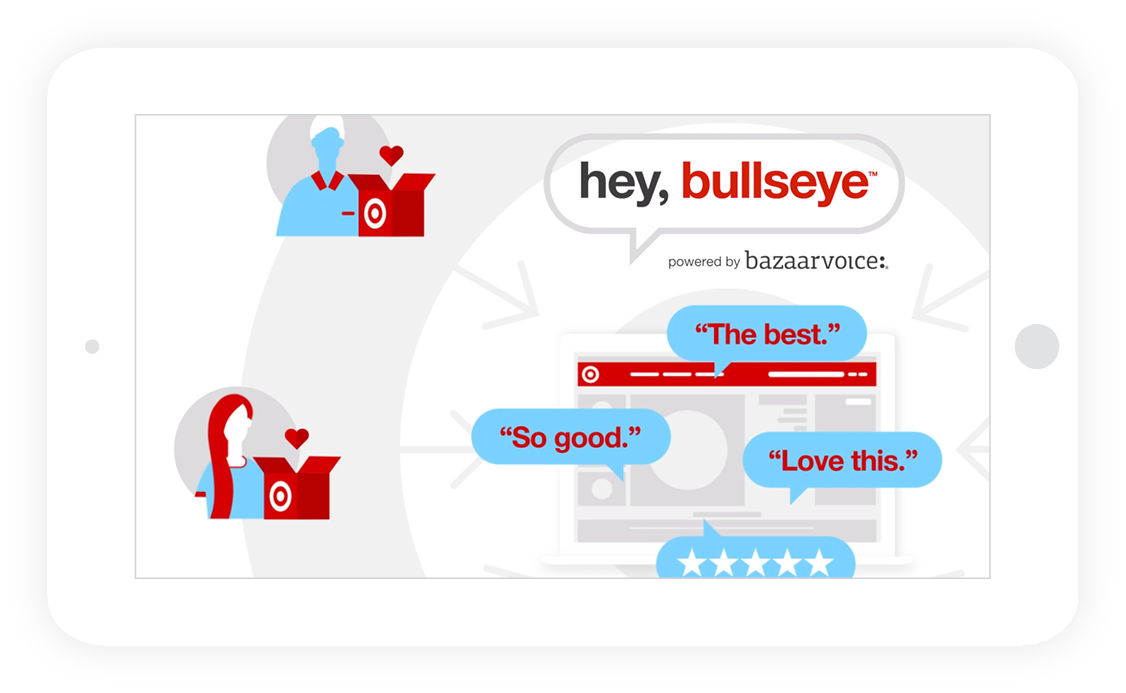 "Product launches are even more impactful with the power of UGC. Using sampling to collect reviews in advance lets brands showcase reviews right as it hits the market," said Hiltner.
Bazaarvoice Sampling powers Target's program by helping brands choose the right products to sample and target the right audience members within Target's own community. On average, participating brands see their reviews live on Target.com within just three weeks.
"Target always strives to increase our review coverage to ensure we have unique reviews that improve SEO and help drive search to PDPs. Whether it's through sampling or syndication, making sure we have reviews on every item helps brands sell successfully on Target.com," said Hiltner.
Empowering brands to interact with retail customers
Finally, brands can answer questions and respond to reviews about their products on Target's site, which are both strongly encouraged by Target. In fact, 90% of the more than 300,000 questions on the retailer's site have answers, a majority of which are submitted by the brands.
"Answering a question not only helps our guest who asked it but helps everyone else who's reading it. The real audience members are the future shoppers who see the brand's response or answer," said Hiltner. "The old adage is true – if one guest has a question, tons of others do too."
Target's overwhelming e-commerce success is proof that implementing a UGC strategy is worth the investment.
95%
Of the 40 million reviews on Target.com
are syndicated from brands in the Bazaarvoice Network.
About the company
Target Corporation is one of the ten largest retailers in the United States.
Our overall growth strategy is really focused on UGC. Making our content better increases sales.
Matthew Hiltner
E-commerce Lead of Ratings and Reviews, Target