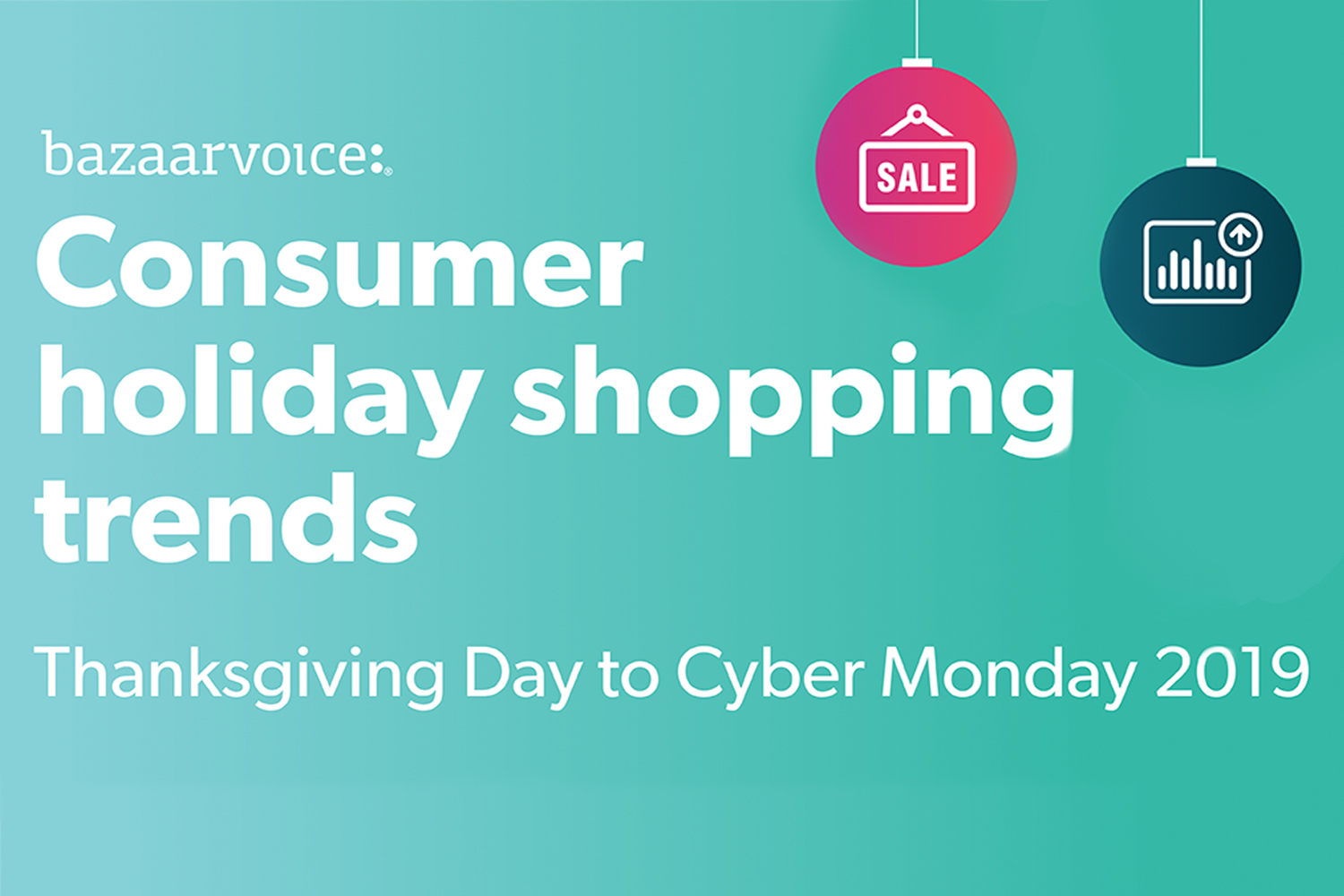 Over the years, Thanksgiving, Black Friday, and Cyber Monday have become synonymous with unreal deals, a spike in shoppers in-store and online, and the biggest weekend on the retail calendar. The impact is so great that the lead up to Thanksgiving through Cyber Monday has been dubbed Cyber Week.
And once again this year, the weekend held up its reputation – and then some.
To understand just how massive this weekend is for shopping, we analyzed Bazaarvoice Network data of over 6,200 brand and retailer websites. Gone are the days of Black Friday and Cyber Monday as standalone events. Shoppers and sellers are treating the whole week of Thanksgiving as a shopping event, with some brands and retailers running Black Friday sales long before the week even begins.
Here are the biggest takeaways from our network:
Black Friday had the highest page views, while Cyber Monday generated more revenue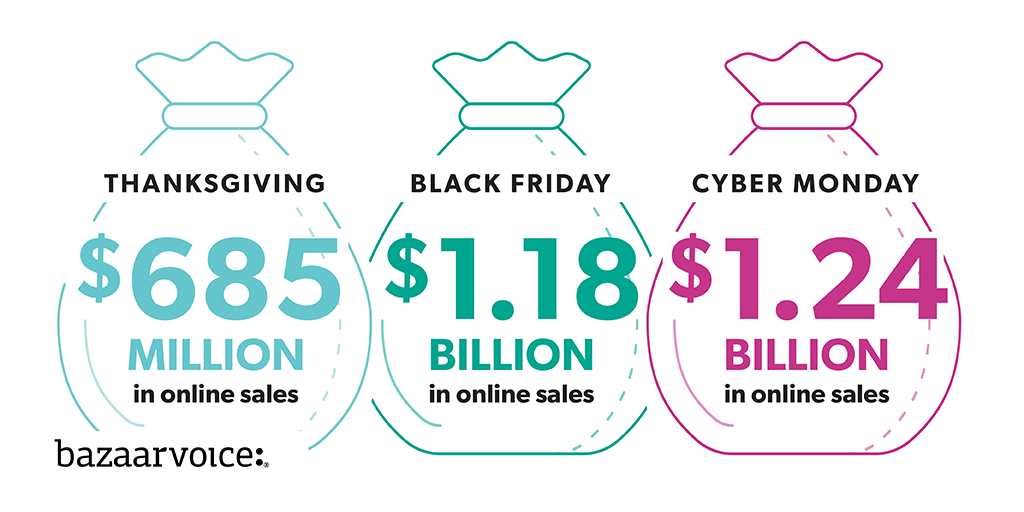 It's a tie for whether Black Friday or Cyber Monday was more successful across our network this year, depending on your definition. 
This year, Black Friday saw over 573 million page views, over 160 million shoppers, and brought in over $1.18 billion in revenue.
Cyber Monday came in second on 490 million page views and over 138 million shoppers, but those shoppers spent over $1.24 billion in revenue.
Since so many holiday sales extend over several days, it makes sense that shoppers are starting their research early in the weekend. Some brands and retailers run day-specific discounts, while others run a blanket sale for the entirety of the Thanksgiving-Cyber Monday shopping period.
And while Cyber Monday netted more in online sales, Black Friday shoppers spent $10 more per order than those on Cyber Monday ($138.90 and $128.83, respectively).
More consideration is more important during Cyber Week
Now more than ever, shoppers are taking the time to vet the products they're purchasing before checking out. Whether it's talking to friends and family, submitting questions on product pages, or reviewing user-generated content such as customer ratings, reviews, and photos, research is an integral part of the buying process.
Over the course of the 2019 Thanksgiving shopping period, 120,175 questions were submitted by shoppers about products they were looking to purchase. This is up roughly 7,000 questions submitted from 2018. 
When shoppers are asking questions, they're engaged and typically well into the decision stage. In short, they're ready to buy something and just waiting for validation.
Questions aren't just benefitting the shoppers who submitted them. Roughly 1 in 4 shoppers viewed or interacted with user-generated content on brand and retailer websites, including Q&A and customer reviews.
The trend of UGC interaction and submission spiking ahead of purchase is consistent with our findings in our Holiday Headquarters. This highlights the importance of consideration in the buying process. 
While shoppers are researching more, they seem to be spending less online, particularly on the days leading up to Black Friday, which saw considerable drops in YOY revenue. While we can't say for sure, there are a few reasons this could be possible. 
Not only are consumers shopping earlier according to our holiday data (some shoppers get a head start even before Black Friday in July), but many shoppers are drawn in-store due to holiday ambiance and decor.
Additionally, in a holiday shopping survey we ran earlier this year, 49% of shoppers said they'd be doing the bulk of their holiday shopping on Amazon. Since our data does not include shopping data from Amazon, this could explain why we saw an uptick in shopper activity like page views, questions, etc., but a decline in revenue. 
Lines are blurring between deals and days
With shoppers on the lookout for deals around Thanksgiving (and some, even earlier), discounts and promotions are no longer limited to in-store on Black Friday and online for 24 hours on Cyber Monday. Shoppers are logging in and heading out in droves at a higher volume and on more days than years prior – hence this shopping time being dubbed Cyber Week.
Compared to 2015, the number of shoppers roughly doubled from the Monday before Thanksgiving to Cyber Monday.
Year over year, our network saw 21.65% more shoppers throughout the holiday week than in 2018, highlighting that shoppers are on the lookout for deals outside the two major sale days. 
Across the shopping period, Sunday saw the highest percentage of page view growth year over year at almost 20%, and Saturday held highest percentage of shopper growth year over year at over 26%.
Brands and retailers began running sales earlier this year to account for Thanksgiving's later date, which shortened the period between this holiday and Christmas by 6 days. This can also explain the growth we've seen on pre-Thanksgiving shopping days. While Black Friday and Cyber Monday still have the highest page views and shoppers, the other days in the week are becoming more popular to get some shopping done.
Mobile surpassed desktop this year during Cyber Week
Last year, we predicted mobile page views would overtake desktop in page views, and it did.
From the Monday before Thanksgiving to Cyber Monday, the percentage of page views from mobile device increased year over year anywhere from 1.28% to 4.75% daily. The day seeing the highest growth in mobile page views was the Wednesday before Thanksgiving, with the Sunday after being the day with the highest mobile page views overall (68% of traffic).
The day with the lowest percentage of page views from mobile was Cyber Monday, sitting at only 58% of page views. With Monday being a typical workday worldwide, it makes sense that a lot of shoppers would be sneaking in purchases online from their desktop between building spreadsheets and taking meetings.
Of the eight days of shopping data that we analyzed, mobile revenue accounted for half of total revenue on two days, while coming very close to an equal split on another two days. By 2020, we wouldn't be surprised if mobile revenue began to see the same uptick that mobile page views saw this year.
Shoes and electronics are the hottest products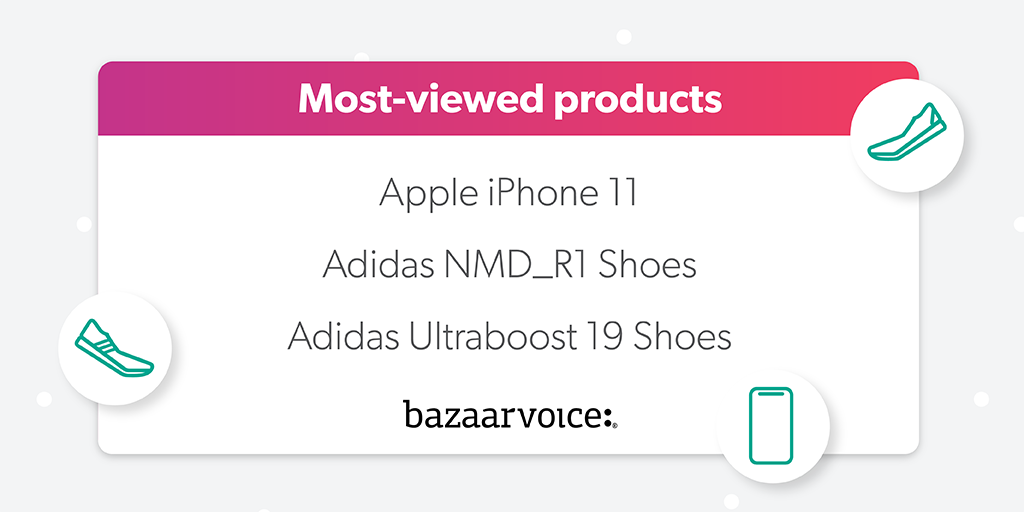 While it's not surprising how popular electronics are during massive sales, the other top product from this shopping period might be less predictable – shoes. Of the top five viewed products between Thanksgiving and Cyber Monday, three were electronics and two were shoes.
The most popular item between Thanksgiving and Cyber Monday? The recently released Apple iPhone 11. The most recent iPhone was the most popular product last year, too.
While hot tech items made the list last year too (Apple iPhone, Instant Pot, Dyson Vacuum), this year saw less diversity in the tech that was popular with shoppers. All three of the most popular tech items this year serve a similar purpose – entertainment (Apple iPhone, Playstation 4, Apple AirPods). There was little variation in product popularity across each day with the exception of the Apple MacBook Air 13" making an appearance on the list on Thanksgiving. 
Check out this infographic for more insights from Cyber Week:

___________________________________________________________________________
Overall, the shopping days surrounding Thanksgiving, Black Friday, and Cyber Monday continue to show growth and increased popularity with consumers. While some shoppers began their holiday shopping in April, a significant portion of consumers continue to make some holiday purchases during the traditional shopping period, increasing traffic to brand and retail sites significantly. 
Holiday shopping is far from over. Looking for some more holiday shopping insights? Check out our Holiday Headquarters.