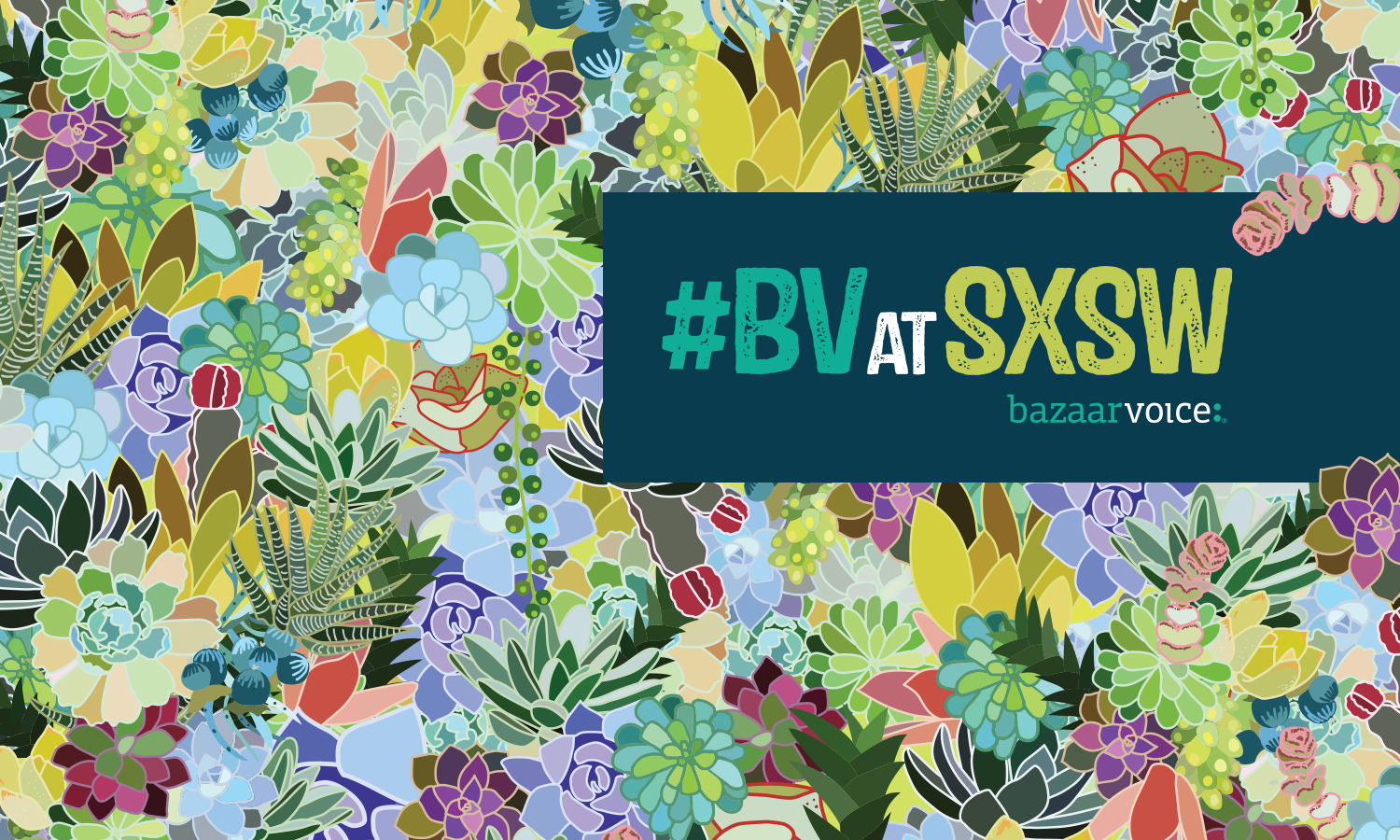 We made it — it's Sunday, March 19th, and the dust has just begun to settle from the ten incredible days of SXSW. In SXSW time, our #BVatSXSW event seems like a month ago, rather than just last weekend. There has been so much to do and see since then! We had asked our Bazaarvoice team to share their learnings from attending panels and speakers at Interactive; you can see all our thoughts as they happened by checking out #BVatSXSW on Twitter and Instagram. We also want to help you break it all down — what were our key takeaways? To get the full picture, catch up on part one of our SXSW Interactive recap, and then read through part two below to see what themes emerged from the second half of Interactive.
1. The newest media platforms, though challenging, must be embraced. 
GIFs, Snapchat, Instagram, virtual reality — there are so many new platforms and features for sharing content, it can be hard for companies (and consumers) to keep up. The feeling at SXSW? Everyone is still trying to figure it all out and no one size (or method) fits all, but the consensus is that new media can't be ignored. More specifically, companies must start thinking about mobile and digital first before focusing on more traditional methods like print or television.
"Atomised new stories (brief snippets of news) are incredibly useful in letting readers decide what news they want to consume and how, and yet they are also challenging for news agencies as it gives the readers much more control than ever before. Atomisation breaks down decades of how news has been reported. People driving the content must be consuming the content on the same formats they publish on. Early on, reporters didn't read news on Twitter even though they were pushing the news to it. Content writers must be willing to eat their own dog food and be active on all social channels to be familiar with how they are used."
– Andy North, VP, Corporate Brands & Communication, at Atomised News Stories for a Bite-Size Generation
"This panel featured speakers from ShopStyle and Neiman Marcus talking about the relationship between social media and commerce. Though we know that consumers view and consult social media in the inspiration and discovery phases of a customer journey, how many consumers actually go to the store and purchase the product or buy directly from Pinterest or Instagram? Brands must realize that social media is only one touchpoint of the journey, and if you continue serving engaging social content, it likely will impact a purchase later on down the road."
– Alison Kwong, North America Public Relations Manager, at The Hundred Thousand Dollar Snapchat
"The VR/AR conversation has made significant strides forward, moving quickly from 'This is cool!' last year to 'How do we monetize it?" this year. While the advertising ecosystem hasn't fully developed yet, brands are exploring various monetization models including product placement, 'freemium' in-experience upgrades, and incorporating 2D video assets as preroll for 3D filmed content."
– Brett Sanderson, Senior Advertising Product Marketing Manager, at Holograms and the Future of Lifestyle VR & AR
"We often hear about companies letting influencers take over their social media accounts for periods of time, but National Geographic has permanently turned over their Instagram account to their 100+ staff photographers. They post directly to the company's page without any editing from the brand at all and embrace the platforms' new features as soon as they come out: video, Instagram stories, Snapchat. The result? 72 million followers and 3.7 billion total likes, not to mention content that is authentic, diverse, and honest."
– Dan Reade, Creative Director, at Letting Go and The New Way to Tell Visual Stories
"Companies have to start thinking about mobile first now. This panel outlined major trends in mobile, including that mobile merriment is all day, every day. Time goes faster with mobile. Scrolling happens faster, so companies need to personalize for users. Seamless mobile experience is expected, and users will notice when things are broken."
– Summer Daoud, Director, Product Marketing, at Moving at a Mobile Minute
"I asked the speakers how their companies used social media and what their social media channel mix looked like. Facebook, Instagram and Snapchat tend to be the dominant players we hear about in the news, but the real-time nature of Twitter still lends itself well to the immediacy of watching games. All three companies shared that Twitter is alive and well as far as engaging and communicating with audiences (especially niche audiences centered around sports franchises), and isn't going away in sports any time soon — even if we're hearing that the company is losing followers."
– Alison Kwong, North America Public Relations Manager, at Winning Ways to Engage Sports Fans, Non-Traditionally
"One panelist said, 'GIFs are the verbs of the web.' How can brands take advantage of this new form of content? 89% of mobile users get news on mobile devices, so optimize for mobile screens. Consider the platform – Twitter is best but only can set limited context; other platforms allow for more context around an image. Right now, GIFs are popular, but what's next? Boomerang and audiograms."
– Andy North, VP, Corporate Brands & Communication, at What the GIF?
"The future of VR will be visible interactive graphics out in the open, creating an immersive virtual experience without staring into a screen or using goggles. VR is just another tool we can use to communicate with and relate to other humans. The end goal for the VR interface is that there will be no traditional menus, and we will intuitively know how to use it without manuals, just like us speaking a language every day without the use of a dictionary."
– Brett Sanderson, Senior Advertising Product Marketing Manager, at Human-Centered Approach to Designing VR Interfaces
"All three panelists agreed that luxury is less about being expensive, but more about being desirable. A lot of people associate luxury with exclusion, affluence, and status, which is still true, but with new media, people can create tribes and communities of others who relate to them. Rather than being based on geography, digital tribes form around interests like sneaker collectors, skate culture, hip hop, and more."
– Alison Kwong, North America Public Relations Manager, at How New Media is Redefining the Meaning of Luxury
2. The best companies stand for something. 
When we attended the National Retail Foundation's Big Show two months ago, we noticed that for many companies who spoke at the event, it wasn't just about the money anymore. There was higher calling, one of turning brands into powerful change agents to improve people's lives. This theme for NRF was something we were happy to see again this week at SXSW. Consumers, particularly those in the millennial and Generation Z populations, have started to care more about what companies stand for. The most adored companies are the ones that care about more than profit.
"At Sweetgreen, impact isn't an arm of their business; it is their business. It permeates everything they do and every decision they make. Their philanthropy started to feel like a separate part of the business, so they worked to incorporate it. In addition to revenue and EBITDA, they make sure they have metrics and goals that ladder up to their mission of connecting people to real food."
– Andy North, VP, Corporate Brands & Communication, at Intimacy at Scale
"Millennial women still want to be desired, feel beautiful, and be 'marriage material,' but they want to do the mate choosing, not wait to be chosen. What does it mean for advertisers? 56% of women have purchased a product because they like the way the brand has portrayed women, and 77% of Generation Z girls and boys believe businesses should make 'doing good' a part of their business."
– Sara Spivey, Chief Marketing Officer, at Bad Ass Buying Power: The Rise of the Millennial Woman
"Both companies shared that knowing about where your products come from and how they're made is the future of luxury, because today's consumers are informed and desire products that align with their values. Levi's has always focused on putting humans at the center of their brand and business, and in addition to thinking about consumers and fashion trends, Levi's is known for caring about their manufacturers, factory workers, and labor conditions. Zady co-founder Maxine Débat also shared that her business model is built around the idea that you don't have to sacrifice style for values or vice versa — you can still buy fashionable, well-designed, quality goods that are sustainably made."
– Alison Kwong, North America Public Relations Manager, at How New Media is Redefining the Meaning of Luxury
"The National Geographic audience pays attention to and is engaged with their content, and the company has been able to organically bring awareness to several causes and events. When images of emergency events are posted, their followers express concern and want to provide support. National Geographic used their Instagram feed to do a flash sale two days after a major avalanche killed 16 people. Their timely reaction was able to raise $500k, purely through Instagram, for the effected families."
– Dan Reade, Creative Director, at Letting Go and The New Way to Tell Visual Stories
3. Never underestimate the power of storytelling. 
It may seem obvious or simple, but, per the sessions we attended, the power of storytelling is sometimes overlooked by companies. A compelling story appeals to more than consumers' wallets — it appeals to their emotions. Establishing an emotional connection with consumers is as important as ever for establishing brand affinity and loyalty. Our panel at #BVatSXSW on visual content discussed how images can play a role in telling a brand's narrative, but the first place to start is with defining the story itself.
"GIFs, though small images, should tell a story. Find the tiny story to start the conversation — whether it's emotional, newsworthy, or shareable. GIFs are powerful and easily digestible, but they can't stand on their own. They need a story to set context."
– Andy North, VP, Corporate Brands & Communication, at What the GIF?
"Panelist and neuroscientist Shante Taylor said that, 'People are no longer buying stuff; they're buying your 'why." Companies need to help their customers understand the story behind their brand to enable emotional connection. And then, use different media channels to tell the story. What platform is your audience on, and how do they engage with content on that platform? What are the different components of your company's narrative, and how does that narrative progress in each platform?"
– Brianna Byers, Associate Product Marketer, at 15,000-Year-Old Marketing Strategy: Why It Works
"National Geographic's goal with their Instagram account is for people to remember the stories. They let their photographers find their voice in the story. Not everyone will do it the same way. Some narrate, some use text, some are subtle and quiet — the company doesn't dictate how. Their success begins with telling great stories. You may not have the bandwidth, money, etc., but if you have a great story, it falls into place."
– Dan Reade, Creative Director, at Letting Go and The New Way to Tell Visual Stories
"With native advertising, the panelists all discussed the delicate balance of how they can thoughtfully integrate branded content into a story without reducing the value of the narrative. For success, branded content must be specific and audience-driven. Companies have to have a clear idea of what they want their audience to feel and do, and then incorporate that into the story."
– Kerry Brunelle, Social Media Strategist, at Native's Leading Ladies: Making Kickass Content
"Stories are the currency in which humans exchange ideas. Great stories have a rational foundation and a fun, emotional hook. Sweetgreen tries to tell stories with style and substance. Companies should find a powerful way of making an emotional connection with their customers and employees. Companies that grow and get better are the ones that deliver on the human connection."
– Andy North, VP, Corporate Brands & Communication, at Intimacy at Scale
Whew — what a whirlwind of a week! From tacos and celeb sightings to pedicabs and Vice Presidential inspiration, we hoped you enjoyed your time at SXSW and in our hometown of Austin. What themes did you see this week? What was your favorite thing you did? Let us know in the comments.