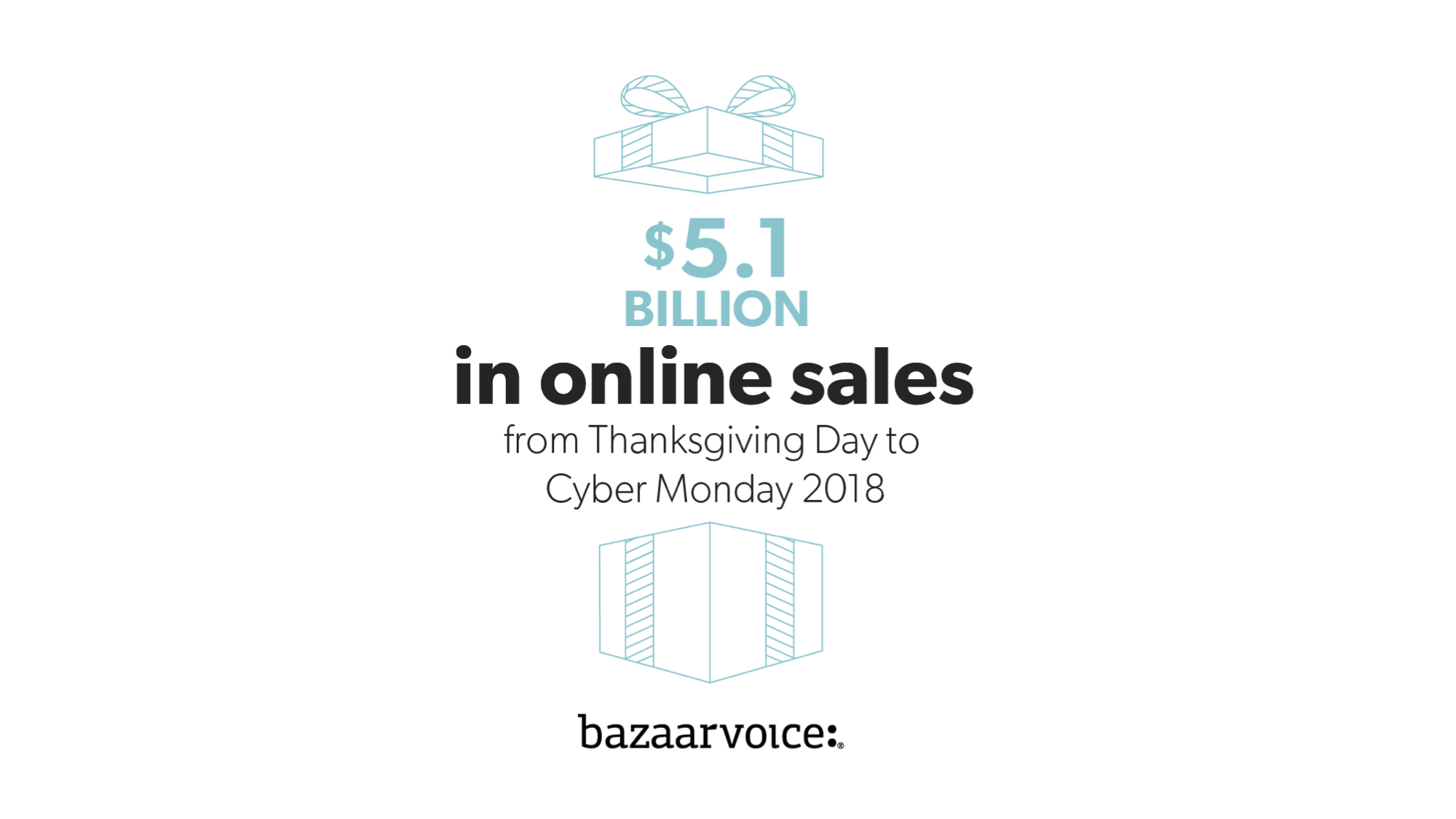 Black Friday and Cyber Monday are always welcomed events to the retail industry; these are often the two most important days of the year for many brands and retailers.
To better understand just how much of an impact this year's Thanksgiving shopping weekend had, we looked to our Network of 6,000+ brand and retailer websites. The online traffic we see on Black Friday and Cyber Monday alone makes us one of the highest trafficked networks on the web, and our data is very representative of overall consumer shopping activity during the holidays.
Year-over-year data shows a heartening trend: growth across the board. From the number of shoppers and product page views to revenue and average order value, we saw positive increases for every metric we tracked. Overall, our network saw $5.1 billion dollars in online revenue this year, up almost 12% from $4.6 billion last year.
Despite the overall growth, there were nuances between each day of the Thanksgiving weekend that offer insight into consumers' shifting shopping behavior. Based on our analysis of shopping activity between Thanksgiving Day to Cyber Monday 2018, these are the top four trends from the Thanksgiving shopping weekend.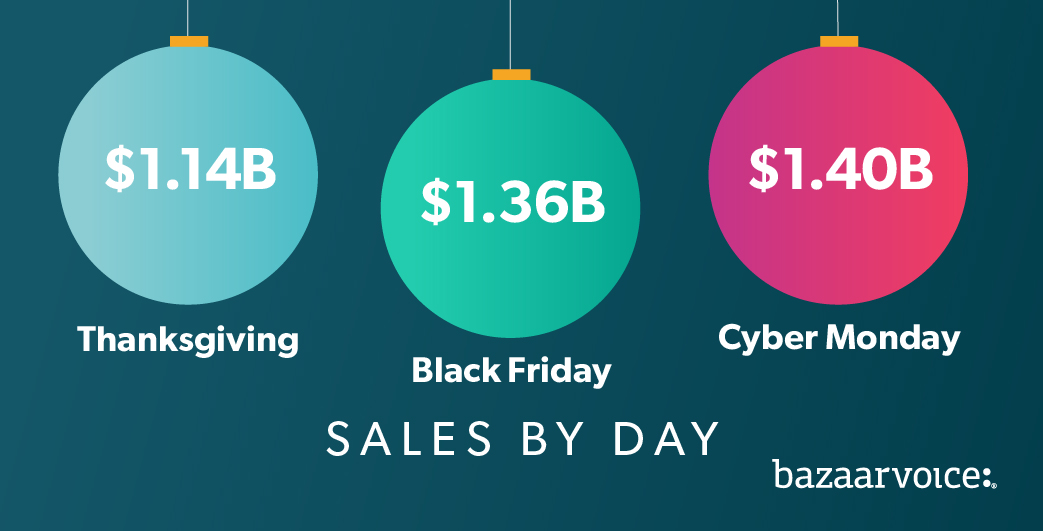 Cyber Monday reasserts itself in the Thanksgiving Weekend power rankings
Last year, for the first time ever, Thanksgiving Day overtook Cyber Monday across a number of categories, including revenue, number of orders, mobile sales, and average order value. While Thanksgiving Day had the highest overall and mobile average order values this year, it saw considerably less shopping activity. The number of overall and mobile orders on Thursday dropped by over 20% and both overall and mobile revenues declined by over 7%.
Meanwhile, Cyber Monday saw double digit growth in many areas — up 42% in number of orders and 53% in total revenue from 2017 — and even beat out Black Friday for number of orders and total revenue. Adobe's Retail Unwrapped report echoes this finding, with Cyber Monday being the highest day of revenue from the entire weekend. Given that Cyber Monday is considered to be more of an online shopping holiday, it makes sense that the same growth was seen in mobile shopping activity: number of mobile orders and mobile revenue grew by a whopping 65% and 82% respectively. However, despite that growth, Cyber Monday still lags behind other days in mobile shopping activity; Thanksgiving Day, Black Friday, and the Saturday after Thanksgiving all saw a higher percent of revenue from mobile, and every day between Thursday through Sunday saw a higher percentage of page views from mobile than Cyber Monday. This may be because shoppers, who had been at home with family or researching in-store around Thanksgiving, are more likely to shop from their phone than on Cyber Monday, when many people are back at work and in front of a computer all day.
While Cyber Monday regained its footing as one of the top two shopping days of the entire year, it was not the only day to see interesting patterns in growth.
Saturday and Sunday see high growth, cementing Thanksgiving Weekend as a five-day shopping event
Although it is well established that high shopping activity extends beyond Black Friday and Cyber Monday, this year's data cemented that the entire stretch from Thanksgiving Day to Cyber Monday is a five-day long shopping extravaganza.
While the Saturday and Sunday after Thanksgiving never saw higher numbers than any of the other three major shopping days, they did see the highest growth across a majority of categories we tracked. Saturday the 24th saw the largest growth in total page views and tied with Thanksgiving Day at 51% for the highest percent of revenue from mobile; where percent of revenue from mobile on Thanksgiving Day grew by only .01% percentage points year-over-year (YOY), Saturday grew by more than 5%. When it didn't have the highest year-over-year growth, it was often second to Sunday, as was the case with growth in total shoppers, growth in mobile revenue, and percentage of product page views from mobile. The Saturday after Thanksgiving has been deemed Small Business Saturday, in an effort to increase awareness for and shopping at small, local businesses, rather than mass merchants and chains. As this shopping holiday has gained traction, it has extended the shopping activity through the weekend.
While Saturday has had an established presence as a shopping holiday, Sunday has lacked the same recognition and has no moniker tied to it — yet. If this year is any indication, that may soon change. In addition to the stats mentioned already, Sunday saw the second highest growth in both total revenue (8% YOY) and mobile revenue (21% YOY) and in average order value (12% YOY). Clearly, shoppers were more open to spending Saturday and Sunday shopping this year, rather than the Thanksgiving holiday.

Mobile shopping poised to surpass desktop next year
Is it too early to make a prediction for Thanksgiving Weekend 2019? Based on this year's data, next year may be the year when more online shopping is done from mobile devices than from computers. This past weekend, mobile accounted for 47% of all revenue and 62% of all page views, and, for the first time, more orders (51%) were placed via mobile than via desktop. While we saw average growth across every facet of Thanksgiving weekend shopping, mobile shopping activity is growing at a larger rate. Number of mobile orders, mobile revenue, and mobile average order value all saw larger growth than the corresponding overall metrics.
Thanksgiving Day, though it saw declines in other areas, still was a top day for mobile shopping: it saw the second highest revenue from mobile ($579 million), the highest mobile average order value ($170.90), and the highest percent of revenue from mobile (51%). As Thursday is the only day that is actually a national holiday, many consumers are spending the day with family and friends, rather than shopping in-store. That doesn't keep them from researching items and making purchases; they just opt to do it from mobile devices.
As mentioned in last year's blog post, mobile shopping growth is hopefully indicative of brands' and retailers' investment in the mobile customer experience. The increasing adoption of social commerce, retail apps, and personalization may be the boost mobile commerce needs to surpass desktop next year.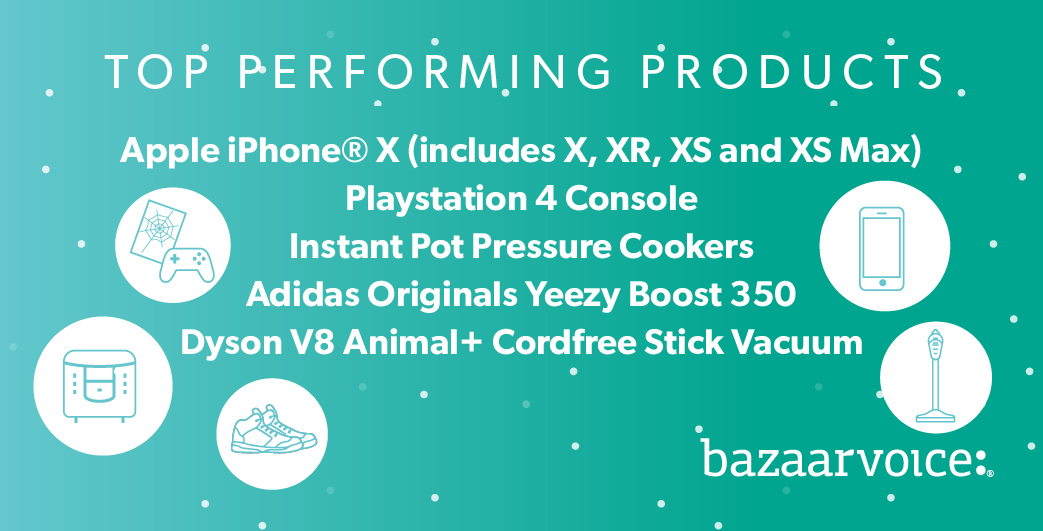 Toys for adults, like security cameras, video game consoles, and small appliances, sweep top products
As always, toys and electronics were popular purchases during Thanksgiving weekend. According to our data from last year, these categories all see significant conversion lift during the holiday season: 148% for household appliances, 331% for smart home products, 461% for video game consoles, and 605% for toys. This year was no exception, but who are these purchases for? Looking at the high performing products list year, it seems like adults are making purchases for themselves or other adults, rather than buying toys and games for kids.
Different video game consoles, the PlayStation 4, Nintendo Switch, and Xbox One, held three of the top ten high performing products this year, with some retailers selling out by Black Friday. While video game consoles make appropriate gifts for children, over 70% of video game players are above the age of 18, so it is likely that many of these purchases were made for adults. Similarly, Instant Pot Pressure Cookers, the Dyson V8 Animal+ Vacuum, a Samsung 55 inch TV, and the Ring Video Doorbell 2 were also electronics on the list, and something tells me these weren't gifts being purchased for children. The National Retail Federation shared this finding, indicating that consumers are using the five-day holiday weekend to buy for themselves, with self-gifting up 13% from a year ago.
The only product on the list that doesn't require electricity or battery power? Adidas Yeezy Boost sneakers, which also made the list last year. A version of this highly desired shoe was released on Black Friday last week, which would likely explain this year's page view spike.
---
Overall, we saw year-over-year growth across every category we tracked. Shoppers are shopping more and spending more, and the Thanksgiving Weekend should be a strong indicator for the rest of the holiday season. This is welcomed news for the still recovering retail industry.
For more shopping data and insight from the holiday shopping season, see the full Thanksgiving weekend shopping infographic below and visit our Holiday Headquarters.